Guide To Crappie Fishing In Florida
All about fishing for black crappie.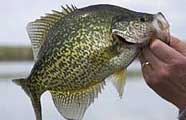 Crappie are actually a member of the sunfish family and can be found in many Florida lakes. Crappie are known by many different local names. Paper mouth, goggleye, bridge perch, slabs and speckled perch, are just a few.
Florida is home to excellent crappie fishing, with the black crappie being the primary species targeted by anglers. These popular game fish can be found in various freshwater bodies throughout the state, including lakes, reservoirs, and rivers.
When it comes to crappie fishing in Florida, anglers employ a variety of methods to increase their chances of success. One popular technique is vertical jigging, which involves dropping a small jig or jigging spoon vertically into the water column near submerged structures, such as brush piles, fallen trees, or dock pilings. This method allows anglers to target crappie at different depths and entice them to bite.
Another effective technique is casting or trolling with small jigs, often paired with a plastic grub or minnow imitation. Anglers cast their jigs along the shoreline or near visible cover and retrieve them slowly, mimicking the movement of natural prey. Trolling with jigs can also be productive, especially when targeting larger bodies of water.
Live bait, such as minnows, is a popular choice for crappie fishing in Florida. Anglers can either suspend live minnows under a bobber or use them on a small hook with a split shot sinker to keep the bait at the desired depth. This method is effective for targeting crappie near submerged vegetation, drop-offs, or brush piles.
It's important to note that crappie fishing in Florida often requires patience and persistence. Crappie can be finicky and their feeding patterns can change throughout the day. Therefore, anglers may need to experiment with different depths, locations, and bait presentations to find what works best on a given day.
Anglers should also familiarize themselves with the fishing regulations and size limits set by the Florida Fish and Wildlife Conservation Commission to ensure compliance and the preservation of the crappie population.
Overall, crappie fishing in Florida provides anglers with an exciting and rewarding experience. Whether using vertical jigging, casting with jigs, or employing live bait, anglers can enjoy the thrill of reeling in these tasty and sought-after game fish.
Crappie Waters In FL
Crappie flourish in the ideal Florida climate. Big schools of healthy crappie populate most FL waters. The major lakes like Blue Cypress Lake, Crescent Lake, Crooked Lake, Deer Point Lake, Doctors Lake, East Lake Tohopekaliga, Jim Woodruff Reservoir, Lake Apopka, Lake Conlin, Lake Eustis, Lake George, Lake Griffin, Lake Harris, Lake Harney, Lake Hatchineha, Lake Istokpoga, Lake Jessup, Lake Kissimmee, Lake Marian, Lake Miccosukee, Lake Monroe, Lake Newnan, Lake Okeechobee, Lake Santa Fe, Lake Talquin, Lake Tohopekaliga, Lake Wier, Lake Weohyakapka, Lochloosa Lake, Orange Lake, St. John's River and Tsala Apopka Lake are a good bet for a nice stringer of crappie. Also try some of the smaller lakes and ponds as many of them are stocked with crappie.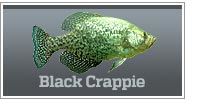 World record: 6 lbs 0 oz
State Record: 3.83 lbs
Click the images and links above for species details.
Top 5 Crappie Fishing Lures For Florida
Crappie jigs work well in water from 2' to 40' deep, and are the most popular artificial lure for crappie ever. When crappie are shallow, spinners, small crankbaits and underspins are the often very productive. As they move deeper, spoons are among the top producers if the crappie are active. Review details for the best crappie rig options. Understanding the seasonal movements of crappie can enhance your chances of using these lures in the ideal locations.
Florida State Record Crappie
The state record black crappie was caught from Lake Talquin.
Crappie Fishing Basics Video
Check out crappie information, by state.
The life cycle of crappie.
The more you know about crappie, the easier it will be to locate and catch them in Florida lakes and rivers. Visit the crappie fishing page for details about their seasonal migrations.
FLORIDA