Crappie Fishing In Missouri
Guide to fishing for black and white crappie.
Missouri is a haven for crappie fishing, with its many lakes, rivers, and reservoirs offering excellent opportunities to target both black crappie and white crappie. Crappie are highly sought-after panfish known for their delicious taste and spirited fights, making them a favorite among anglers. The purpose of this page is to share basic information about crappie fishing and crappie lakes in the state.
Crappie Fishing Basics Video
Black crappie and white crappie are similar in appearance and behavior, but they can be found in different habitats within Missouri's waters. Black crappie tend to favor clearer, more natural lakes and reservoirs with abundant vegetation and submerged structures. They can also be found in quiet backwaters of rivers and streams. On the other hand, white crappie thrive in slightly murkier waters, such as larger reservoirs and rivers, and they are more tolerant of turbid conditions.
Anglers often target crappie using various techniques, including jigging, trolling, and casting. Light tackle and small jigs or minnow imitations are popular choices for enticing these fish. Crappie tend to congregate in schools, so once you find a productive spot, you can expect multiple bites. The spring spawning season and the fall months are particularly productive for crappie fishing, as the fish are more active and can be found in shallower waters.
Missouri's lakes and reservoirs offer ample opportunities for crappie fishing. Lake of the Ozarks, Truman Lake, and Stockton Lake are just a few examples of popular crappie fishing destinations. Additionally, the state's many rivers and smaller bodies of water are home to healthy populations of crappie, providing anglers with a variety of fishing options.
Whether you're targeting black crappie in a serene lake or seeking out white crappie in a larger reservoir, Missouri offers fantastic crappie fishing experiences. These panfish provide plenty of action and the chance to fill your creel with delicious fillets. Just remember to check local regulations, obtain the necessary fishing permits, and practice responsible angling practices to ensure the sustainability of Missouri's crappie populations for generations to come.
Crappie Fishing Lakes in Missouri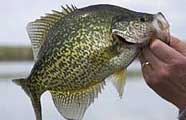 Crappie Waters In MO
Crappie are everywhere in MO. Ponds, creeks, rivers, parks, small lakes and of course all the major lakes including Atkinson Lake, Big Lake, Blue Springs Lake, Bull Shoals Lake, Clearwater Lake, Council Bluff Lake, Fellows Lake, Forest Lake, Harry S. Truman Reservoir, Hazel Creek Lake, Lake Jacomo, Lake of The Ozarks, Lake Springfield, Lake Taneycomo, Longview Lake, Mark Twain Lake, McDaniel Lake, Montrose Lake, Mozingo Lake, Pomme de Terre Lake, Smithville Reservoir, Stockton Lake, Table Rock Lake, Thomas Hill Reservoir and Wappapello Lake.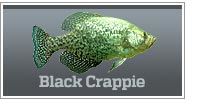 World record: 6 lbs 0 oz
State Record: 5 lbs 0 oz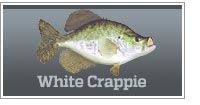 World record: 5 lbs 3 oz
State Record: 4 lbs 9 oz
Click the images and links above for species details.
Top 5 Crappie Fishing Lures For Missouri
Crappie jigs work well in water from 2' to 40' deep, and are the most popular artificial lure for crappie ever. When crappie are shallow, spinners, small crankbaits and underspins are the often very productive. As they move deeper, spoons are among the top producers if the crappie are active. Review details for the best crappie rig options. Understanding the seasonal movements of crappie can enhance your chances of using these lures in the ideal locations.
The state record black crappie was caught in a private pond.
The state record white crappie was taken from a farm pond.
Crappie are actually a member of the sunfish family and can be found in many Missouri lakes. Crappie are known by many different local names. Paper mouth, goggleye, bridge perch, slabs and speckled perch, are just a few.
Check out crappie information, by state.
The life cycle of crappie.
The more you know about crappie, the easier it will be to locate and catch them in Missouri lakes and rivers. Visit the crappie fishing page for details about their seasonal migrations.
MISSOURI