Guide To Panfish Fishing In North Carolina
All about fishing for panfish in NC lakes and ponds.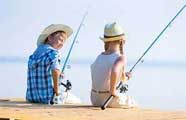 Throughout the state of North Carolina you can find waters with populations of sunfish, including bluegill, flier sunfish, green sunfish, pumpkinseed sunfish, redbreast sunfish, redear sunfish, warmouth, white bass, white perch and yellow perch.
North Carolina offers excellent opportunities for panfish fishing, making it a popular choice for youth anglers. Sunfish, which include species such as bluegill, redear sunfish, and pumpkinseed, are among the most sought-after panfish in the state.
Bluegill is a common species of sunfish that can be found in many lakes, ponds, and rivers throughout North Carolina. They are known for their aggressive strikes and willingness to bite on various baits and lures. Bluegill are relatively small in size, making them perfect for youth anglers to target and catch.
Redear sunfish, also known as shellcrackers, are another popular panfish species in North Carolina. They are known for their strong fighting abilities and are often found near submerged structures and vegetation. Redear sunfish have a specialized diet, primarily feeding on snails and other small invertebrates, which can make them a bit more challenging to catch but also more rewarding.
Pumpkinseed is a colorful sunfish species that can be found in North Carolina's lakes and ponds. They have vibrant orange and blue markings on their bodies, making them visually appealing to young anglers. Pumpkinseed are known for their voracious appetites, making them eager biters and providing plenty of action for youth fishermen.
Panfish fishing is an ideal activity for youth anglers as it offers a great opportunity to learn basic fishing skills, such as casting, baiting hooks, and reeling in fish. It provides a fun and engaging experience that can help children develop patience, coordination, and a love for the outdoors.
Many youth fishing events and programs are organized throughout North Carolina, providing opportunities for young anglers to learn about panfish fishing and connect with other like-minded individuals. These events often offer educational workshops, fishing clinics, and even fishing derbies specifically tailored for youth participation.
North Carolina's abundant lakes, ponds, and rivers offer ample opportunities for youth to experience the thrill of panfish fishing. Whether it's targeting bluegill, redear sunfish, pumpkinseed, or a combination of these species, panfish fishing in North Carolina provides a memorable and rewarding experience for youth anglers and helps foster a lifelong appreciation for the sport of fishing.

Panfish & Perch Lakes
Major lakes in the state with populations of sunfish include Apalachia Lake, Badin Lake, Belews Lake, Blewett Falls Lake, Buckhorn Reservoir, Chatuge Lake, Cheoah Lake, Falls Lake, Fontana Lake, Graham-Mebane Lake, Harris Lake, High Rock Lake, Hiwassee Lake, Hyco Lake, Jordan Lake, Kernersville Lake, Kerr Lake, King Mountain Reservoir, Lake Benson, Lake Cammack, Lake Crabtree, Lake Gaston, Lake Glenville, Lake Hickory, Lake Higgins, Lake James, Lake Mackintosh, Lake Mattamuskeet, Lake Nantahala, Lake Norman, Lake Rhodhiss, Lake Sutton, Lake Tillery, Lake Townsend, Lake Waccamaw, Lake Wheeler, Lake Wylie, Mayo Reservoir, Mountain Island Lake, Moss Lake, Phelps Lake, Randleman Lake, Roanoke Rapids Lake, Salem Lake, Santeetlah Lake, Shearon Harris Reservoir, Tar River Reservoir and W Kerr Scott Reservoir.
Top Producing Panfish Lures & Bait
Check out the top producing lures and bait for bluegill, redear sunfish, rock bass and warmouth, as well as other smaller sunfish. Click here for the best lures for white bass, yellow bass, white perch and yellow perch.
NC Panfish Species
In-state panfish, sunfish and perch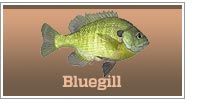 World record: 4 lbs 12 oz
State Record: 4 lbs 5 oz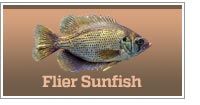 World record: 1 lbs 4 oz
State Record: 1 lbs 5 oz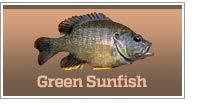 World record: 2.2 lbs
State Record: 1 lbs 14 oz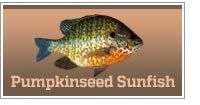 World record: 2 lbs 4 oz
State Record: 1 lbs 6 oz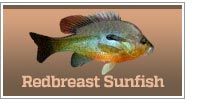 World record: 2 lbs 0 oz
State Record: 1 lbs 12 oz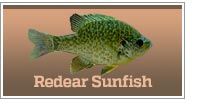 World record: 5.4 lbs
State Record: 4 lbs 15 oz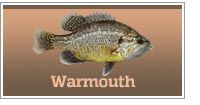 World record: 2.4 lbs
State Record: 1 lbs 13 oz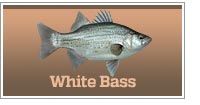 World record: 6.8 lbs
State Record: 5 lbs 14 oz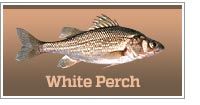 World record: 4.6 lbs
State Record: 2 lbs 15 oz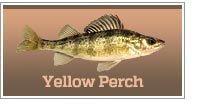 World record: 4 lbs 3 oz
State Record: 2 lbs 9 oz
Click the images and links above for species details.
The state record bluegill was caught somewhere in Henderson County.
The state record flier sunfish was taken from a private pond.
The state record green sunfish came from a farm pond in Caswell County.
The Trent River served up the state record pumpkinseed sunfish.
The Big Swamp in gave up the state record redbreast sunfish.
The state record redear sunfish came from a private pond.
The state record white perch came from Falls Lake.
The state record yellow perch came out of Indiantown Creek.
Bluegill Fishing Basics Video
The core principles shown in this video will work for most sunfish, perch and other panfish.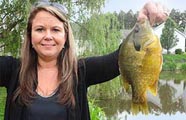 Lori Hall with a dandy sunfish caught from a local pond in Durham County, North Carolina.
One or more species of sunfish populate virtually all warm water streams, ponds and lakes throughout North Carolina, and around the world for that matter. They can survive in waters that provide their natural food source of minnows, insects, crustaceans and worms. Their competitive nature amongst themselves, for food, makes them relatively easy to catch.
Panfish are prolific spawners and repopulate the waters as fast as they are harvested. A common problem with panfish fishing is that the waters are under-fished causing panfish to overpopulate. As a result they tend to stay small in size due to lack of food source.
The term "panfish" comprises many species, each called by a variety of names. The bluegill tops the list and is the most common.
Sunfish information in other states.
Learn the lifecycle of panfish
There is a host of panfish anglers can pursue. Visit the panfish fishing page for details on many of these sunfish you might encounter in North Carolina fishing waters.
NORTH CAROLINA