Fishing At Lake Tillery
AKA: Tillery Lake, Tillery Reservoir
What to fish for...
Guide to fishing for largemouth bass, channel catfish, flathead catfish, blue catfish, black crappie, bluegill, redear sunfish, white bass, white perch, yellow perch and striped bass at Lake Tillery in North Carolina.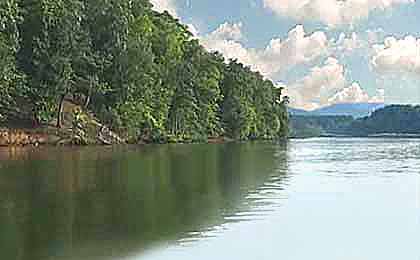 Healthy populations of bass, crappie and perch reside in Lake Tillery, a 5,200-acre lake located in the central part of the state, at Norwood, NC. However one of the biggest draws to fishermen are the giant blue catfish that swim in this reservoir. Worms, shrimp and cut bait are some of the favorite baits for catfish fishing in Lake Tillery. Fat crappie and plentiful sunfish make this a lake for the whole family where everyone can enjoy the "catching"! Two marinas and a boat rental location offer everything you need for boating and water sport activities. Lots of shoreline miles lined with trees and docks make excellent places to cast a lure. Fishing from shore is popular, with easy access all around the lake.
Lake Tillery, located in central North Carolina, is a popular destination for fishing enthusiasts, boaters, and campers. This picturesque reservoir spans over 5,000 acres and offers a wide range of recreational opportunities for outdoor enthusiasts.
One of the main attractions of Lake Tillery is its excellent fishing. Anglers flock to this reservoir in search of various fish species that call it home. Largemouth bass are abundant in Lake Tillery and provide exciting action for bass anglers. The reservoir's structure, including submerged trees, brush piles, and rocky areas, offers ideal habitats for bass to thrive. Crankbaits, plastic worms, and spinnerbaits are often successful baits for targeting bass in Lake Tillery.
Crappie fishing is also popular on Lake Tillery. Anglers can find both black and white crappie in good numbers, particularly around submerged structures and bridge pilings. Spring is a particularly productive season for crappie fishing when they move closer to the shoreline for spawning.
Lake Tillery is also known for its healthy population of catfish, including channel catfish and flathead catfish. Catfish anglers can target these species using a variety of baits such as cut bait, worms, or chicken liver. The reservoir's deep channels and rocky areas are prime spots for catfish angling.
Boating is a popular activity on Lake Tillery, and several boat ramps are available for easy access. Boaters can enjoy cruising the expansive waters, water skiing, or simply relaxing on a leisurely boat ride. Kayaks and canoes are also common, allowing visitors to explore the quieter coves and enjoy a more peaceful boating experience.
For those who wish to extend their stay, camping facilities are available near Lake Tillery. There are campgrounds with amenities such as RV hookups, tent sites, picnic areas, and restroom facilities. Camping near Lake Tillery allows visitors to fully immerse themselves in the beauty of the area and enjoy the tranquility of the lakeside.
Lake Tillery in North Carolina offers a fantastic fishing experience with a variety of species, including bass, crappie, and catfish. The reservoir's scenic beauty and ample boating opportunities make it a popular destination for water enthusiasts. The availability of camping facilities allows visitors to make the most of their outdoor experience by staying overnight and enjoying the serenity of the lakeside. Whether you're a seasoned angler, boater, or camper, Lake Tillery provides a wonderful setting to enjoy the outdoors in North Carolina.

Primary fish species residing in Lake Tillery
Click images for fishing tips and details about each species.
Lake Tillery Amenities
Marina: YES
Boat Rental: YES
Boat Launch Ramp: YES
Campgrounds: YES
RV Hookups: YES
Lodging: YES
Convenience Store: YES
Bait & Tackle: NEARBY
Restaurant: YES
Today's Weather & Forecast
Fishing Boat Rentals
Lake Tillery Boat Rentals
Rentals: Bass Tracker fishing boats and pontoons
844 845-5379
Lilly's Bridge Marina
Rentals: Bass boats, kayaks, pontoons and deck boats
910 439-0067
Marinas
Lilly's Bridge Marina
1183 Lillys Bridge Rd
Mt Gilead, NC 27306
910 439-0067
Public Boat Launch Ramps & Landings
Lilly's Bridge Access Area
Located just south of the bridge, this is a well appointed boat launch access point. It has plenty of paved parking, three docks and a two-lane concrete ramp.
Morrow Mountain Boat Launch
Located on the west side of the lake, in the northwest corner of the lake, this access point is at the end of Morrow Mountain Road. It is a small, concrete, one-lane ramp with a dock and ample paved parking.
Norwood Boat Access
With gravel parking for over two dozen vehicles with trailers, plus a dock, this two-lane boat launch ramp serves visitors to the west side of the lake via Lakeshore Drive.
Stony Mountain Access Area
It is situated at the south end of Lake Tillery Road, mid lake, on the west side of the lake. The two-lane boat ramp has a dock and paved parking for thirty or more vehicles.
Swift Island Lake Tillery Boat Access
Located at the convergence of Highway 27 and Highway 73, in the east sector of the lake, this is a four-lane, concrete ramp with two docks and tons of paved parking.
Click here for a North Carolina Fishing License.
Campgrounds & RV Parks Nearby
Norwood Campground - 704 474-3800
Twin Harbor Property Owners Campground - 910 439-6129
Lake Tillery Family Campground - 704 985-3700
Lake Tillery NC Map - Fishing & Camping Areas
Lake Video
Contact Information
Lake Tillery
Lilly's Bridge Marina
1183 Lillys Bridge Rd
Mt Gilead, NC 27306
910 439-2104
Fishing lakes in each state.
Lake Tillery in North Carolina.
NORTH CAROLINA


Plentiful bass, crappie and perch fishing in central NC.
Fishing at Lake Tillery, in North Carolina.