Fishing At Lake James
AKA: James Lake, James Reservoir
What to fish for...
Guide to fishing for largemouth bass, smallmouth bass, blue catfish, black crappie, white crappie, walleye, bluegill, white bass, striped bass, northern pike and tiger muskie at Lake James in North Carolina.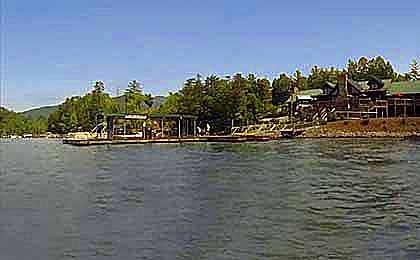 This deep, cold-water lake is home to quite a variety of freshwater fish species. Lake James is a 6,800-acre reservoir with depths up to 120 feet, located in the north-central part of the state. Bass are a favorite target of sporting anglers, while walleye are the focus of many who are looking for table fare. Crappie are a close second for fish fry enthusiasts. Big pike, muskie, catfish and stripers also reside in the lake for those seeking trophy fish. Schooling white bass can be caught in spring along shallow shorelines, and during the summer by fishing deeper along river channels and ledges. The clean clear water makes for great tasting fish of all species. Nice boat ramps, multiple marinas, boat rentals and camping facilities are all at your service. Bring the family, enjoy the beautiful scenery, and experience some excellent fishing at James Lake.
Lake James, in North Carolina, is a stunning freshwater lake renowned for its excellent fishing opportunities and natural beauty. The lake is nestled in the picturesque Blue Ridge Mountains, providing anglers with a serene and scenic backdrop for their fishing adventures.
One of the standout species in Lake James is the smallmouth bass. Anglers are drawn to the lake for the chance to catch these feisty and hard-fighting fish. Smallmouth bass can be found near rocky structures, submerged logs, and drop-offs. Anglers often employ various techniques such as casting crankbaits, jigs, and soft plastics to entice these aggressive bass. The clear waters of Lake James make it an ideal spot for targeting smallmouth bass.
In addition to smallmouth bass, Lake James is home to a variety of other popular sportfish. Largemouth bass, known for their size and strength, can be found around submerged vegetation and structure. Crappie, including black and white varieties, are abundant in the lake and provide excellent angling opportunities. Other species such as catfish, sunfish, and perch also inhabit the waters of Lake James, offering a diverse range of fishing options for anglers of all preferences.
Boating is a popular activity on Lake James, allowing anglers and recreational enthusiasts to explore the expansive water body. The lake features several boat ramps and marinas for convenient access to the water. Whether you prefer cruising in a motorized boat, paddling in a kayak, or enjoying a relaxing day of pontoon boating, Lake James offers ample space and opportunities for boating enjoyment.
Camping facilities around Lake James provide the perfect opportunity to extend your fishing trip and immerse yourself in the natural beauty of the area. Campgrounds and RV parks in the surrounding vicinity offer amenities for overnight stays, allowing anglers to relax and enjoy the peaceful ambiance of the lake. Camping near Lake James provides the opportunity to wake up to breathtaking views, fish from the shore or a boat, and savor the tranquility of the outdoors.
Lake James in North Carolina is a premier fishing destination offering a variety of fish species, boating opportunities, and camping experiences. Whether you're targeting smallmouth bass, largemouth bass, or other popular game fish, Lake James provides ample chances to reel in a catch. Boating on the crystal-clear waters and camping in the scenic surroundings further enhance the overall experience. Lake James is a must-visit destination for anglers and outdoor enthusiasts seeking a memorable fishing adventure in North Carolina.

Primary fish species residing in Lake James
Click images for fishing tips and details about each species.
Lake James Amenities
Marina: YES
Boat Rental: YES
Boat Launch Ramp: YES
Campgrounds: YES
RV Hookups: YES
Lodging: YES
Convenience Store: NEARBY
Bait & Tackle: NEARBY
Restaurant: YES
Today's Weather & Forecast
Marinas
Bear Creek Marina
608 Marina Dr
Nebo, NC 28761
828 655-1400
Lake James Camping Resort & Marina
5786 Benfields Landing Rd
Nebo, NC 28761
828 584-0190
Mimosa Boat Landing Marina
2260 N Powerhouse Rd
Morganton, NC 28655
828 584-1886
Public Boat Launch Ramps & Landings
Black Bear Boat Ramp
Plenty of paved parking, a six-lane concrete launch ramp, and three docks make this boat access a favorite. It is located in the northwest sector of the lake, at the convergence of Yancey Road and Lake James Road.
Canal Bridge Boat Ramp
This three-lane, concrete launch ramp is located at the end of James Ave, just south of the Highway 126 Bridge. It has a dock and plenty of paved parking.
Hidden Cove Public Boat Access
Located mid lake, on the south side of the lake off Highway 126, this small, two-lane ramp has limited paved parking and a boat dock.
Linville Boat Ramp
Located at the northern tip of the lake, off highway 126, this is a two-lane, concrete ramp with a dock and convenient, paved parking.
Click here for a North Carolina Fishing License.
Campgrounds & RV Parks Nearby
Lake James State Park, Catawba River Campground - 828 584-7728
Lake James Landing Campground - 828 652-2907
Paddy Creek Campground - 828 584-1346
Lake James Family Campground - 828 584-0190
Lake James NC Map - Fishing & Camping Areas
Lake Video
Contact Information
Lake James
Lake James State Park
6883 NC Hwy 126
Nebo, NC 28761
828 584-7728
Fishing lakes in each state.
Lake James in North Carolina.
NORTH CAROLINA


Bass, crappie and walleye fishing in north-central NC.
Fishing at Lake James, in North Carolina.