Guide To Great Trout Fishing Locations In Kansas
All about fishing for rainbow and brown trout in area lakes and streams.
Kansas offers great trout fishing opportunities, particularly during the winter months when lakes and rivers are stocked with rainbow trout. Anglers can enjoy pursuing these beautiful fish in several lakes and rivers throughout the state.
Rainbow trout are the primary trout species stocked in Kansas, known for their vibrant colors and acrobatic leaps when hooked. These fish are typically raised in hatcheries and released into selected waters to provide exciting angling experiences for trout enthusiasts. Brown trout are also stocked in some fisheries in the state. Anglers can target rainbow trout using a variety of techniques, including casting with small spinners, flies, or bait such as worms or power bait.
Several lakes in Kansas are popular destinations for trout fishing. Clinton Lake, Shawnee Mission Park Lake, and Webster Reservoir are just a few examples where rainbow trout are stocked during the winter months. These lakes provide accessible fishing opportunities and often host special trout fishing events and derbies for anglers of all ages to enjoy.
In addition to lakes, certain rivers and streams in Kansas also receive trout stockings. The Kansas River, Big Blue River, and Mined Land Wildlife Area Pit Lakes are among the locations where anglers can try their luck at catching trout. These river systems provide scenic settings for anglers to cast their lines and test their skills in pursuing these elusive fish.
Kansas state records for rainbow trout reflect the potential for impressive catches. The current state record for rainbow trout stands at over 15 pounds. This record exemplifies the size and quality of rainbow trout that can be found in Kansas waters.
Trout fishing in Kansas provides a unique opportunity for anglers to enjoy the sport during the colder months. Whether fishing from the shore, a boat, or wading in a river, the challenge of hooking into a feisty rainbow trout adds excitement to the angling experience. With a variety of lakes and rivers to explore and the potential for trophy-sized catches, Kansas is a fantastic destination for trout fishing enthusiasts.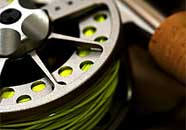 Trout Fishing Waters
Kansas has limited trout fishing. The only major lakes with a healthy population of trout are Cedar Bluff Lake, Kanopolis Lake, Lake Shawnee, Tuttle Creek Lake and Webster Reservoir. Visit the Kansas Department of Wildlife & Parks website for information regarding trout stocking in Kansas.

Trout Species In The State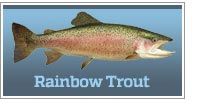 World record: 42 lbs 2 oz
State Record: 15.72 lbs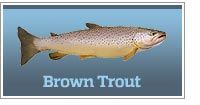 World record: 40 lbs 4 oz
State Record: 4.62 lbs
Click the images and links above for species details.
Select the best trout lures and baits
Trout spinners, crankbaits and jerkbaits work well for shallow, reasonably active fish. Salmon eggs, worms and prepared baits will work at virtually all depths.
Kansas State Record Trout
The state record rainbow trout was caught from Kill Creek Park Lake.
The state record brown trout came from Kanopolis Reservoir Seep Stream.
Watch trout fishing videos to see trout anglers in action.
Additional trout fishing information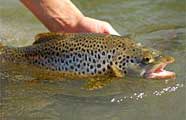 The 5 primary trouts are the rainbow, brook, brown, cutthroat and lake trout. Browns are considered the most difficult to catch and brookies are the easiest. Pure cold water is key to survival of the trouts.
Trout Conservation
Trout Unlimited
Trout locations and info, by state.
The habits of trout.
Trout are considered some of the most difficult fish to fool. Once you locate Kansas waters with a population of trout, the challenge becomes identifying trout flies and lures that will trigger strikes. Visit the trout fishing page to learn more about the habitat each of the trouts prefer.
KANSAS