Trout Fishing Locations In California
Guide to fishing for rainbow, steelhead, cutthroat, brook, brown, golden and lake trout in area lakes and streams.
California is a haven for trout fishing enthusiasts, offering a wide variety of trout species and abundant fishing opportunities in its lakes and rivers. Among the popular trout species found in California are rainbow trout, brown trout, and brook trout.
Rainbow trout are perhaps the most sought-after trout species in California. Known for their vibrant colors and acrobatic fights, rainbow trout can be found in many lakes, rivers, and streams throughout the state. They are stocked in numerous waters to provide excellent angling opportunities, and they are also found in some wild and native populations.
Brown trout, another prized trout species, are known for their wily behavior and challenging fight. These trout thrive in both coldwater and warmwater habitats, making them adaptable to various environments. Brown trout can be found in rivers such as the Owens River, McCloud River, and the Lower Sacramento River, as well as in lakes such as Crowley Lake and Lake Davis.
Brook trout, though not as abundant as rainbow and brown trout, can be found in select lakes and streams in California. They prefer cold, clear waters and are often found in high-elevation lakes and small mountain streams. Some popular destinations for brook trout fishing include the Eastern Sierra lakes, the Trinity Alps, and the San Gabriel Mountains.
California boasts numerous lakes and rivers that offer excellent trout fishing opportunities. The Eastern Sierra region is renowned for its pristine alpine lakes and world-class trout fishing. Locations such as Mono Lake, June Lake, and Mammoth Lakes attract anglers from near and far. The Sierra Nevada rivers, including the Owens River, Truckee River, and Kern River, are also popular destinations for trout fishing.
In addition to the Eastern Sierra, the state is dotted with other trout fishing hotspots. The High Sierra region offers breathtaking scenery and excellent trout fishing in lakes like Lake Tahoe, Silver Lake, and Lake Sabrina. The northern part of the state is home to renowned trout rivers like the Upper Sacramento River, the McCloud River, and the Trinity River.
Whether you prefer fly fishing in remote mountain streams or casting your line in well-stocked reservoirs, California provides a wealth of opportunities for trout fishing enthusiasts. The state's diverse trout species, scenic landscapes, and abundance of fishing locations make it a dream destination for anglers seeking the thrill of hooking into a beautiful trout.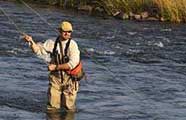 Trout Lakes In Northern CA
Northern California has clear cold water lakes which the trout adore. You can find trout in Boca Reservoir, Bucks Lake, Copco Lake, Donner Lake, Eagle Lake, Folsom Lake, Lake Almanor, Lake Alpine, Lake Berryessa, Lake Combie, Lake Lewiston, Lake Natoma, Lake Oroville, Lake Pillsbury, Los Vaqueros Reservoir, New Bullards Bar Reservoir, Shasta Lake, Stampede Reservoir, Trinity Lake and Whiskeytown Lake. Northern CA lakes with populations of steelhead include Lake Mendocino, Los Vaqueros Reservoir and Stampede Reservoir. Ice fishing for trout is popular in winter at numerous lakes in the state. Feeder streams and waters coming out of the spillways may also provide some exciting trout fishing.
Trout Lakes In Central CA
Consider trying your luck for trout at Bass Lake, Beardsley Lake, Cherry Lake, Crowley Lake, Lake Don Pedro, Donnells Lake, Fallen Leaf Lake, H. V. Eastman Lake, Hensley Lake, Huntington Lake, Ice House Reservoir, Jenkensin Lake, June Lake, Lake Cachuma, Lake Camanche, Lake Del Valle,
Lake Kaweah, Lake McClure, Lake Sonoma, Lake Tulloch, Lake Nacimiento, Lake Tahoe, Mammoth Lakes, Millerton Lake, New Hogan Lake, New Melones Lake, Pine Flat Lake, Pinecrest Lake, San Luis Reservoir, San Pablo Reservoir, Shaver Lake, Silver Lake, Success Lake, The California Delta, Topaz Lake and Union Valley Reservoir. It's always a good idea to stop by the marina or local bait store and pick up some gossip about where the best stringers of trout are coming from.
Trout Lakes In Southern CA
With generally warmer waters in Southern California, trout fishing opportunities are limited to some larger, deeper impoundments like Big Bear Lake, Canyon Lake, Diamond Valley Lake, El Capitan Reservoir, Laguna Niguel Lake, Lake Cahuilla, Lake Hemet, Castaic Lake, Lake Elsinore, Lake Perris, Lake Piru, Littlerock Reservoir, Pyramid Lake, San Vicente Reservoir, Silverwood Lake and Skinner Reservoir. Lake Sutherland offers steelhead fishing.
Watch trout fishing videos to see trout anglers in action.
Visit the California Department of Fish & Game website for information regarding trout stocking in California.
The 5 primary trouts are the rainbow, brook, brown, cutthroat and lake trout. Browns are considered the most difficult to catch and brookies are the easiest. Pure cold water is key to survival of the trouts.
Trout Species In The State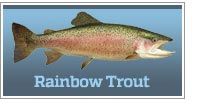 World record: 42 lbs 2 oz
State Record: 27 lbs 0 oz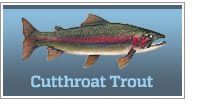 World record: 41 lbs 0 oz
State Record: 31 lbs 8 oz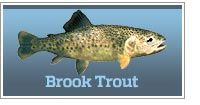 World record: 14 lbs 8 oz
State Record: 9 lbs 12 oz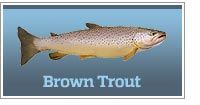 World record: 40 lbs 4 oz
State Record: 26 lbs 8 oz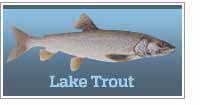 World record: 72 lbs 0 oz
State Record: 37 lbs 6 oz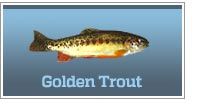 World record: 11 lbs 4 oz
State Record: 9 lbs 8 oz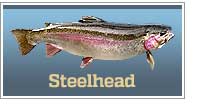 World record: 42 lbs 0 oz
State Record: 27 lbs 4 oz
Click the images and links above for species details.
Select the best trout lures and baits
Trout spinners, crankbaits and jerkbaits work well for shallow, reasonably active fish. Salmon eggs, worms and prepared baits will work at virtually all depths.
California Record Trout Locations
Brook trout - Silver Lake
Brown trout - Twin Lakes
Bull trout - McCloud Lake
Cutthroat trout - Lake Tahoe
Golden trout - Virginia Lake
Lake trout - Lake Tahoe
Rainbow trout - Lake Natoma
Steelhead - Smith River
Additional trout information
Trout Conservation
Trout Unlimited
Trout locations and info, by state.
Learn the habits of trout
Trout are considered some of the most difficult fish to fool. Once you locate California waters with a population of trout, the challenge becomes identifying trout flies and lures that will trigger strikes. Visit the trout fishing page to learn more about the habitat each of the trouts prefer.