Fishing At Lake Almanor In Northern CA
AKA: Almanor Lake
What to fish for...
Guide to fishing for largemouth bass, smallmouth bass, channel catfish, rainbow trout, brown trout, Sacramento perch and chinook salmon at Lake Almanor in California.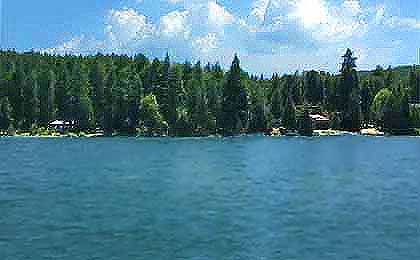 Mountains, pine trees, clean air, scenic views and great fishing all come together for your enjoyment at Lake Almanor. This is a 28,000 acre lake, located in the northeastern part of the state in Plumas County. With plenty of camping and RV parking, plus all the amenities you might need, this is a vacation paradise for those who love the great outdoors, water sport activities and fishing.
Lake Almanor, located in northeastern California, is a popular destination for fishing enthusiasts. The lake offers excellent angling opportunities for a variety of species, making it a favorite among both recreational and avid anglers. Rainbow trout are abundant in Lake Almanor, and they provide exciting action for anglers year-round. These trout can be caught using various methods, including trolling with lures or bait, casting from the shore, or fly fishing.
Another prized species found in Lake Almanor is the smallmouth bass. Known for their aggressive nature and strong fight, smallmouth bass offer an exciting challenge for anglers. The lake's rocky shorelines and submerged structures provide ideal habitat for these bass, and anglers often use techniques such as casting crankbaits, jigs, or soft plastics to target them.
Lake Almanor is also home to kokanee salmon, which attract anglers with their vibrant colors and delicious taste. These landlocked sockeye salmon can be caught during the spring and summer months. Trolling with downriggers and using small lures or baited hooks are effective methods for enticing these prized salmon.
In addition to its excellent fishing opportunities, Lake Almanor is a popular destination for boating and camping. The lake's vast size and calm waters make it ideal for boating, whether it's for fishing or simply enjoying a leisurely cruise. Anglers can launch their boats from several public boat ramps located around the lake. Camping facilities are available near the lake, providing a scenic and convenient base for anglers and outdoor enthusiasts to enjoy extended fishing trips.
Visitors to Lake Almanor can also take advantage of the picturesque surroundings and engage in various recreational activities such as hiking, swimming, and wildlife watching. With its stunning natural beauty, diverse fishery, and ample outdoor opportunities, Lake Almanor is a prime destination for anglers and nature lovers seeking a memorable fishing and camping experience in California.
Lake Almanor has a healthy population of multiple species of fish, including bass, catfish, trout and salmon. Roadways circling the lake make access to shoreline fishing accessible at many locations. There are public boat ramps, boat rentals and marinas to assist with all your boating and fishing needs. Local fishing guides are available to help you locate quality fishing spots on Lake Almanor.
Primary fish species residing in Lake Almanor.
Click images for fishing tips and details about each species.
Lake Almanor Amenities
Marina: YES
Boat Rental: YES
Boat Launch Ramp: YES
Campgrounds: YES
RV Hookups: YES
Lodging: YES
Convenience Store: YES
Bait & Tackle: NEARBY
Restaurant: YES
Today's Weather & Forecast
Fishing Boat Rentals
Major's Outpost Boat Rentals
Rentals: Pontoon boats
530 259-2727
Plumas Pines Marina
Rentals: Pontoon boats
530 375-0059
Marinas
Knotty Pine Resort Marina
430 Peninsula Dr
Lake Almanor, CA 96137
530 596-3348
Lake Cove Resort & Marina
3584 CA-147
Westwood, CA 96137
530 284-7697
Plumas Pines Marina
3000 Almanor Dr W
Canyondam, CA 95923
530 375-0059
Public Boat Launch Ramps & Landings
Almanor Boat Launch North of Prattville
Located mid lake, on the southwest side of the lake, just north of Almanor Campgrounds, this is a two-lane, concrete ramp with a dock and paved parking.
Canyon Dam Boat Ramp
Located at the southern tip of the lake, on the west side, off Volcanic Legacy Scenic Byway, this is a three-lane, concrete ramp with a dock and paved parking.
Click here for a California fishing license.
Campgrounds & RV Parks Nearby
North Shore Campground - 530 258-3376
Last Chance Campground - 916 386-5164
Almanor South Campground - 530 258-2141
Forest Park RV Spaces - 530 284-7405
Lake Almanor CA Map - Fishing & Camping Areas
Lake Video
Contact Information
Lake Almanor
Lake Cove Resort & Marina
3584 CA-147
Westwood, CA 96137
530 284-7697
Fishing lakes in each state.
Lake Almanor in Northern California.
Bass, catfish, trout and salmon fishing in north-central CA.
Fishing at Lake Almanor, in California.