Guide To Fishing At Silverwood Lake In Southern CA
AKA: Silverwood Reservoir
What to fish for...
Fishing for largemouth bass, channel catfish, black crappie, white crappie, rainbow trout, brown trout, Sacramento perch and striped bass at Silverwood Lake in California.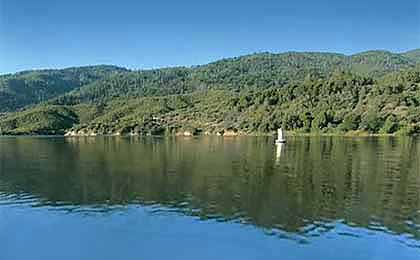 Nestled in the San Bernardino Mountains, on the Mojave River, Silverwood Lake is a convenient lake for fishing and camping enthusiasts. Silverwood Lake covers 970 acres, and is located in south central CA, 15 miles north of San Bernadino - less than a twenty-minute drive off Interstate Highway 15.
Silverwood Lake, located in Southern California, is a popular destination for fishing enthusiasts. The lake offers a diverse range of fish species, making it an excellent spot for anglers of all skill levels. Some of the common fish species found in Silverwood Lake include largemouth bass, striped bass, rainbow trout, bluegill, and catfish.
Largemouth bass fishing is a major draw at Silverwood Lake. Anglers can target these prized game fish using a variety of techniques, including casting with plastic worms, crankbaits, or topwater lures. The lake's rocky points, submerged structures, and weed beds provide ideal habitats for largemouth bass, offering anglers plenty of opportunities to hook into some impressive catches.
Another popular species at Silverwood Lake is the striped bass. These predatory fish can grow to impressive sizes and provide an exciting fight. Anglers often target striped bass by trolling with large swimbaits or using live bait such as shad or anchovies. The lake's deeper waters and submerged channels are prime locations for targeting striped bass.
Rainbow trout are regularly stocked in Silverwood Lake, providing excellent fishing opportunities throughout the year. Anglers can catch rainbow trout by casting with spinners, spoons, or by using bait such as PowerBait or nightcrawlers. The colder months, especially after trout stocking, tend to be particularly productive for rainbow trout fishing.
Silverwood Lake is also home to bluegill and catfish, which provide additional fishing options. Bluegill can be targeted using small jigs, worms, or flies, while catfish are often caught using bait such as chicken liver, stink bait, or nightcrawlers. These species offer a fun fishing experience, particularly for families or anglers looking for a relaxing day on the water.
Boating is a popular activity at Silverwood Lake, with various options available for anglers and recreational boaters. The lake allows motorized boats, kayaks, canoes, and sailboats, offering ample opportunities to explore the water and access different fishing spots. Several boat ramps are available for easy launching and retrieval, ensuring convenient access for boaters.
Camping facilities are also available near Silverwood Lake, allowing visitors to extend their stay and fully enjoy the outdoor experience. Campgrounds offer amenities such as picnic tables, fire rings, and restroom facilities, making it convenient for anglers and campers alike. Whether you prefer tent camping or RV camping, Silverwood Lake provides options to suit different preferences.
Before visiting Silverwood Lake for fishing, it's important to check local fishing regulations, obtain the necessary fishing licenses, and be aware of any fishing restrictions or seasons. It's also advisable to stay informed about any special advisories or guidelines related to the lake. By being prepared and knowledgeable, anglers can have a safe and enjoyable fishing experience at Silverwood Lake.
Silverwood Lake in California offers a rewarding fishing experience with its diverse fish species, including largemouth bass, striped bass, rainbow trout, bluegill, and catfish. Boating options allow anglers to explore different fishing spots, and camping facilities nearby provide an opportunity to fully immerse in the natural surroundings. It's important to follow fishing regulations, obtain the necessary licenses, and stay updated on any advisories to ensure a memorable and successful fishing adventure at Silverwood Lake.
There is camping with easy access to the lake. There are places to rent boats, including Silverwood Lake Marina which provides a variety of typical marina services. This lake holds some monster fish. The lake record largemouth is 17 pounds and stripers topping the fifty pound mark have been caught here. The lake gave up a rainbow trout over twelve pounds and also has some giant catfish.
Primary fish species residing in Silverwood Lake.
Click images for fishing tips and details about each species.
Silverwood Lake Amenities
Marina: YES
Boat Rental: YES
Boat Launch Ramp: YES
Campgrounds: YES
RV Hookups: YES
Lodging: NEARBY
Convenience Store: NEARBY
Bait & Tackle: NO
Restaurant: NO
Today's Weather & Forecast
Marinas
Silverwood Lake Marina
14651 Sawpit Canyon Rd
Hesperia, CA 92345
760 389-2281
Public Boat Launch Ramps & Landings
Silverwood Lake Marina Boat Launch Ramp
Located in the southwest section of the lake, off Sawpit Canyon Road, this is a six-lane, concrete ramp with a dock and paved parking.
Click here for a California fishing license.
Campgrounds & RV Parks Nearby
Mesa Campground - 760 389-2303
Dogwood Campground - 909 336-6717
Silverwood Lake CA Map - Fishing & Camping Areas
Lake Video
Contact Information
Silverwood Lake
Silverwood State Recreation Area
1416 9th Street
Sacramento, CA 95814
760-389-2281
Fishing lakes in each state.
Silverwood Lake in Southern California.
Giant largemouth bass and striper fishing in southern CA.
Fishing at Silverwood Lake, in California.