Fishing At Shaver Lake In Central CA
What to fish for...
Guide to fishing for smallmouth bass, channel catfish, black crappie, rainbow trout, brown trout, bluegill and kokanee salmon at Shaver Lake in California.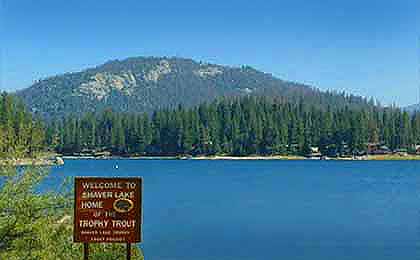 As one of California's great, year-round fishing resources, Shaver Lake offers quite a variety of fish species. Excellent fishing attracts anglers seeking warm-water species like bass and crappie, as well as those seeking cold-water favorites like trout and salmon.
Shaver Lake, located in the Sierra Nevada Mountains of Central California, is a popular destination for fishing enthusiasts. The lake offers a diverse range of fish species, making it an excellent spot for anglers of all levels of experience. Some of the common fish species found in Shaver Lake include rainbow trout, brown trout, kokanee salmon, smallmouth bass, and catfish.
Rainbow trout fishing is a highlight at Shaver Lake. These fish are regularly stocked, ensuring a steady population and providing ample opportunities for anglers to reel in some impressive catches. Trolling with lures, casting from the shore, or fly fishing are popular techniques for targeting rainbow trout in the lake. With its clear waters and scenic surroundings, Shaver Lake offers an enjoyable and rewarding fishing experience.
Brown trout are another sought-after species in Shaver Lake. These fish can grow to impressive sizes and provide a thrilling fight. Anglers often target brown trout using various lures and baits, such as spinners, spoons, or live bait. The lake's deep waters and rocky structure offer ideal habitats for brown trout, making Shaver Lake a prime location for anglers seeking these elusive fish.
Kokanee salmon are a unique species found in Shaver Lake. These landlocked sockeye salmon offer a fun and challenging fishing experience. Kokanee salmon are known for their aggressive nature and acrobatic jumps, making them a favorite among anglers. Trolling with small spoons or dodgers and hoochies is a popular method for targeting kokanee salmon in Shaver Lake.
In addition to the fantastic fishing opportunities, Shaver Lake is also a great destination for boating. The lake allows motorized boats, kayaks, and canoes, giving anglers plenty of options to explore the water and reach different fishing spots. Several boat ramps are available for easy launching and retrieval, ensuring convenient access for boaters.
Camping is a popular activity for visitors to Shaver Lake, and there are several campgrounds located near the lake. These campgrounds offer various amenities such as picnic tables, fire rings, and restroom facilities, providing a comfortable camping experience. Whether you prefer tent camping or RV camping, Shaver Lake provides options to suit different preferences.
When planning a fishing trip to Shaver Lake, it's important to check local fishing regulations, obtain the required fishing licenses, and be aware of any fishing restrictions or seasons. It's also advisable to stay informed about weather conditions and any special advisories related to the lake. Being prepared and knowledgeable will ensure a safe and enjoyable fishing experience at Shaver Lake.
Overall, Shaver Lake in California offers a fantastic fishing experience with its diverse fish species, including rainbow trout, brown trout, kokanee salmon, smallmouth bass, and catfish. Anglers can enjoy boating on the lake to access various fishing spots, and camping facilities nearby provide an opportunity to extend the stay and immerse in the natural beauty of the area. Make sure to follow fishing regulations, obtain the necessary licenses, and stay updated on any advisories to have a memorable fishing adventure at Shaver Lake.
The marina on the lake offers boat rentals, as do other boat rental resources nearby. Excellent fishing guides are available for hire and can teach you all the tips and tricks for catching your dream fish on Shaver Lake.
Primary fish species residing in Shaver Lake.
Click images for fishing tips and details about each species.
Shaver Lake Amenities
Marina: YES
Boat Rental: YES
Boat Launch Ramp: YES
Campgrounds: YES
RV Hookups: YES
Lodging: YES
Convenience Store: NEARBY
Bait & Tackle: NEARBY
Restaurant: NEARBY
Today's Weather & Forecast
Fishing Boat Rentals
Shaver Lake Marina
Rentals: Fishing boats, kayaks and pontoon boats
559 841-5331
Sierra Marina
Rentals: Fishing boats, patio boats, kayaks and pontoons
559 841-3324
Marinas
Shaver Lake Marina
42696 Tollhouse Rd
Shaver Lake, CA 93664
559 841-5331
Sierra Marina
45795 Tollhouse Rd
Shaver Lake, CA 93664
559 841-3324
Public Boat Launch Ramps & Landings
Shaver Lake Marina Boat Ramp
Located mid lake, on the west side of the lake, off Huntington Lake Road, this is a two-lane, concrete ramp with a dock and plenty of paved parking.
Sierra Marina Boat Launch Ramp
Located in the northwest corner of the lake, off Huntington Lake Road-Tollhouse Road, this is a two-lane, concrete ramp with a dock and paved parking.
Click here for a California fishing license.
Campgrounds & RV Parks Nearby
Camp Edison Campground - 559 841-3134
Dorabelle Campground - 877 444-6777
Camp Chawanakee Campground - 559 320-2100
Ponderosa Trailer Park Campground - 559 841-3410
Shaver Lake CA Map - Fishing & Camping Areas
Lake Video
Contact Information
Shaver Lake
Fishing lakes in each state.
Shaver Lake in Central California.
Bass, crappie, trout and salmon fishing in central CA.
Fishing at Shaver Lake, in California.