Fishing At Lake Perris In Southern CA
AKA: Perris Lake
What to fish for...
Guide to fishing for largemouth bass, spotted bass, channel catfish, white catfish, black crappie, rainbow trout, bluegill, redear sunfish and striped bass at Lake Perris in California.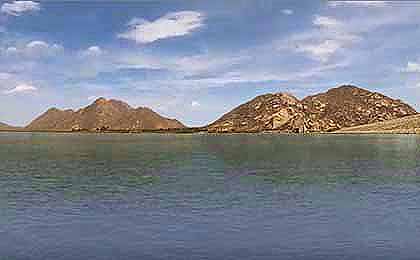 The convenience of this great outdoors experience, wrapped by the conveniences of town, makes Lake Perris a favorite of anglers. Whether you have a fancy fishing boat, fish from a kayak, or like to walk the shoreline and fish - it's here with easy access. This is one of the first lakes in California to receive spotted bass from Alabama, and has proven a good fishery for them. Trout, catfish, crappie and sunfish are also popular targets for local anglers.
Lake Perris, located in Southern California, is a popular destination for fishing enthusiasts seeking a diverse angling experience. The lake is home to a wide variety of fish species, making it an ideal spot for anglers of all skill levels. Fish species commonly found in Lake Perris include largemouth bass, smallmouth bass, striped bass, rainbow trout, catfish, bluegill, and crappie. Whether you prefer casting for bass, trolling for trout, or setting up a bait rig for catfish, Lake Perris offers plenty of opportunities to reel in a big catch.
Boating is a favorite activity at Lake Perris, thanks to its spacious and scenic waters. Boaters can take advantage of the lake's boat ramps and marinas, providing easy access to the water. Whether you prefer motorized boats, kayaks, canoes, or paddleboards, there is something for everyone. With its calm waters and favorable weather conditions, Lake Perris is perfect for water sports such as water skiing, wakeboarding, and tubing. Exploring the lake's shoreline and coves by boat allows visitors to appreciate the natural beauty and peaceful atmosphere.
Camping at Lake Perris offers a chance to immerse oneself in the picturesque surroundings. The lake features several campgrounds, both developed and primitive, offering a range of camping options. From tent camping to RV camping, visitors can find their preferred style of accommodation. The campgrounds offer various amenities, including picnic tables, fire rings, showers, and restrooms. Spending a night under the stars, roasting marshmallows over a campfire, and waking up to the serene views of the lake make for a memorable camping experience.
Lake Perris State Recreation Area, encompassing the lake and its surrounding land, provides additional recreational activities for visitors. Hiking and biking trails wind through the rolling hills, offering panoramic views of the lake and its surroundings. Wildlife enthusiasts can spot a variety of birds, including eagles and herons, as well as other animals such as deer and rabbits. The recreation area also offers picnic areas, playgrounds, and swimming beaches, providing options for families and those seeking relaxation by the water.
In summary, Lake Perris in California is a fantastic destination for fishing, boating, camping, and outdoor recreation. With its diverse fish species, ample boating opportunities, well-equipped campgrounds, and scenic beauty, the lake provides a fulfilling experience for nature lovers and adventure seekers. Whether you're casting a line, cruising on a boat, setting up camp, or exploring the surrounding trails, Lake Perris offers a welcoming environment for visitors to enjoy the great outdoors and create lasting memories.
Primary fish species residing in Lake Perris.
Click images for fishing tips and details about each species.
Lake Perris Amenities
Marina: YES
Boat Rental: YES
Boat Launch Ramp: YES
Campgrounds: YES
RV Hookups: YES
Lodging: NEARBY
Convenience Store: NEARBY
Bait & Tackle: NEARBY
Restaurant: NEARBY
Today's Weather & Forecast
Public Boat Launch Ramps & Landings
Lake Perris Launch Area
Located mid lake, on the north side of the lake, off Via Del Lago, this is a three, three-lane, concrete ramps with docks and plenty of paved parking.
Click here for a California fishing license.
Campgrounds & RV Parks Nearby
Camper Resorts of America RV Campground - 951 657-7497
Lake Perris State Recreation Area - 951 940-5600
Lake Perris CA Map - Fishing & Camping Areas
Lake Video
Contact Information
Lake Perris
Lake Perris State Recreation Area
1416 9th Street
Sacramento, CA 95814
951 940-5603
Fishing lakes in each state.
Lake Perris in Southern California.
Spotted bass, trout and crappie fishing in southwest CA.
Fishing at Lake Perris, in California.