Fishing At Lake Sonoma In Central CA
AKA: Sonoma Reservoir
What to fish for...
Guide to fishing for largemouth bass, spotted bass, channel catfish, flathead catfish, black crappie, rainbow trout, bluegill and redear sunfish at Lake Sonoma in California.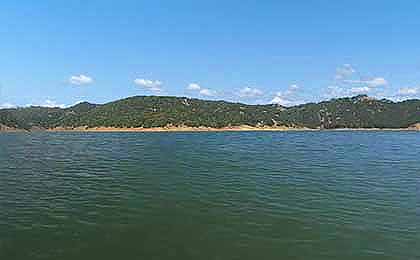 Everything you need for water-related recreation is available at Lake Sonoma, a 2,680 acre lake, located in the northwest part of the state, only ten miles west of Cloverdale. This scenic reservoir has fifty miles of shoreline to explore, and it's loaded with fish. Bass, crappie, trout, catfish and sunfish all thrive here in good numbers and size.
Lake Sonoma, located in Sonoma County, California, is a popular destination for fishing enthusiasts. The lake offers excellent fishing opportunities and is home to a variety of fish species. Anglers can enjoy casting their lines in the tranquil waters of Lake Sonoma while surrounded by scenic beauty.
One of the most sought-after fish species in Lake Sonoma is the largemouth bass. This game fish thrives in the lake's warm waters and provides anglers with exciting action. Fishing for largemouth bass can be productive using techniques such as flipping and pitching jigs, fishing with soft plastic worms, or topwater lures. The lake's coves, submerged structures, and rocky areas provide ideal habitats for these bass, making Lake Sonoma a haven for bass anglers.
Lake Sonoma is also known for its excellent population of rainbow trout. These beautiful fish are regularly stocked in the lake, providing anglers with ample opportunities for successful trout fishing. Trolling with spoons, spinners, or using bait such as PowerBait or nightcrawlers are popular methods for targeting rainbow trout. The colder months and early mornings tend to offer the best trout fishing conditions.
Additionally, Lake Sonoma is home to other fish species such as catfish, crappie, and bluegill. Catfish, particularly channel catfish, can be targeted using bait such as chicken liver, stink bait, or nightcrawlers. Crappie can be found in the lake's submerged structures and can be caught using small jigs or live minnows. Bluegill fishing can be enjoyed using small hooks, worms, or flies.
Boating is a popular activity at Lake Sonoma, and the lake provides ample opportunities for boaters to explore its scenic waters. Boaters can use the lake's boat ramps to launch their motorized boats, kayaks, canoes, or sailboats. Whether you prefer leisurely cruising or water sports, Lake Sonoma offers a beautiful setting for boating enthusiasts.
For those who wish to extend their stay, Lake Sonoma offers camping facilities for overnight stays. The campground provides amenities such as picnic tables, fire rings, and restroom facilities, ensuring a comfortable camping experience. The serene atmosphere and beautiful surroundings make camping near Lake Sonoma a delightful option for outdoor enthusiasts.
Before fishing at Lake Sonoma, it's important to review and adhere to local fishing regulations, obtain the necessary fishing licenses, and be aware of any fishing restrictions or seasons. It's also advisable to check for any special advisories or guidelines related to the lake. By being well-prepared and informed, anglers can have a safe and enjoyable fishing experience at Lake Sonoma.
Lake Sonoma in California offers a diverse fishing experience with its abundance of fish species, including largemouth bass, rainbow trout, catfish, crappie, and bluegill. The lake's scenic beauty and boating opportunities make it an ideal destination for anglers and outdoor enthusiasts alike. Camping facilities provide an opportunity to immerse oneself in the natural surroundings and extend the stay. Remember to familiarize yourself with fishing regulations and any advisories to ensure a successful and responsible fishing trip to Lake Sonoma.
Access to the shoreline for bank fishing is somewhat limited due to the terrain, but most campgrounds have areas available. The Lake Sonoma Boat Launch is located on the southwest corner of the lake at the bridge on Rockpile Road. A launch ramp is in the back of Yorty Creek, on the east side of the lake off Shady Lane. The Lake Sonoma Resort Area Marina has a boat launch ramp off Marina Road.
Primary fish species residing in Lake Sonoma
Click images for fishing tips and details about each species.
Lake Sonoma Amenities
Marina: YES
Boat Rental: YES
Boat Launch Ramp: YES
Campgrounds: YES
RV Hookups: NEARBY
Lodging: YES
Convenience Store: YES
Bait & Tackle: YES
Restaurant: YES
Today's Weather & Forecast
Fishing Boat Rentals
Lake Sonoma Resort & Marina
Rentals: Fishing boats, canoes, kayaks and pontoons
707 433-2200
Marinas
Lake Sonoma Resort & Marina
4200 Skaggs Springs Rd
Geyserville, CA 95441
707 433-2200
Public Boat Launch Ramps & Landings
Lake Sonoma Public Boat launch
Located on the east side of the lake, on the west end of Rockpile Road Bridge, this is a four-lane, concrete ramp with a dock and paved parking.
Lake Sonoma Resort Area Boat Ramp
Located in the southeast corner of the lake, off Marina Road, this is a one-lane, concrete ramp with a dock and paved parking.
Click here for a California fishing license.
Campgrounds & RV Parks Nearby
Liberty Glen Campground - 707 431-4533
Lake Sonoma Marina Campsites - 707 433-2200
Homestead Camp at Lake Sonoma - 877 431-4533
Loggers Campground at Sonoma Lake - 877 431-4533
Thumb Camp at Lake Sonoma - 877 431-4533
Cloverdale / Healdsburg KOA - 707 894-3337
Boat-In Campsites - 707 431-4533
Lake Sonoma CA Map - Fishing & Camping Areas
Lake Video
Contact Information
Lake Sonoma
Lake Sonoma Marina, Resort Area
4200 Skaggs Springs Rd
Geyserville, CA 95441
707 433-2200
Fishing lakes in each state.
Lake Sonoma in Central California.
Fishing for bass, crappie, trout and catfish in northwest CA.
Lake Sonoma, in California.