Fishing At Lake Elsinore In Southern CA
What to fish for...
Guide to fishing for largemouth bass, channel catfish, blue catfish, white catfish, black crappie, rainbow trout, bluegill, green sunfish, redear sunfish and striped bass at Lake Elsinore in California.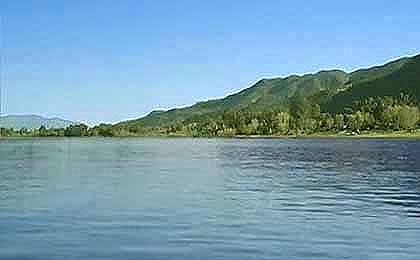 At over 3,300 surface acres it is Southern California's largest freshwater lake. Is a getaway for a wide variety of outdoor and water sports. Lake Elsinore is surrounded by the town with multiple access points for boating, swimming, picnicking and walks along the shore.
Lake Elsinore, located in Southern California, is a popular destination for fishing enthusiasts. The lake boasts a variety of fish species, making it an excellent spot for anglers of all skill levels. One of the most sought-after species in Lake Elsinore is the largemouth bass. The lake is known for its trophy-sized bass, providing an exciting challenge for avid bass anglers. In addition to bass, the lake is home to other fish species such as catfish, crappie, bluegill, and carp, offering anglers a diverse range of fishing opportunities.
Boating is a popular activity on Lake Elsinore, allowing anglers to explore the vast waters and access different fishing spots. Whether you prefer cruising in a motorboat, paddling a kayak, or casting your line from a fishing boat, there are plenty of options available to suit your boating style. The lake is well-suited for boating, with several boat ramps and marinas providing convenient access to the water.
For those who enjoy camping, Lake Elsinore offers several camping options nearby. Campgrounds with scenic views of the lake and surrounding mountains provide a peaceful and relaxing atmosphere for overnight stays. Whether you prefer tent camping or RV camping, there are facilities available to accommodate your needs. Camping near Lake Elsinore allows you to maximize your fishing time and enjoy the serene beauty of the area.
Lake Elsinore is not only a great fishing destination but also offers a range of recreational activities for visitors. The lake is known for its water sports, including jet skiing, wakeboarding, and water skiing. Anglers can take breaks from fishing to indulge in these thrilling water activities and make the most of their time on the lake.
Overall, Lake Elsinore provides a wonderful fishing experience with its diverse fish species, boating opportunities, and camping facilities. Whether you're a seasoned angler or a beginner, the lake's tranquil surroundings and abundant fishing options make it an ideal destination. Whether you're casting your line for bass, exploring the lake by boat, or enjoying a camping trip with family and friends, Lake Elsinore offers an enjoyable and memorable fishing experience in the heart of Southern California.
Camping facilities are available at the lake as well as in campgrounds and RV parks nearby. Boat rentals are available, hourly or by the day. Excellent boat launching facilities make lake access a breeze. Bring the entire family and enjoy a day at the lake.
Fishing At Lake Elsinore
Whether fishing from a boat or from shore, you have the opportunity to catch bass, crappie, bluegill, wipers and catfish. Fishing has improved with the addition of artificial structure and fish stockings. Plenty of bass over five pounds are showing up. Visit the California bass fishing page for tips and techniques for catching these quality bass.
Primary fish species residing in Lake Elsinore.
Click images for fishing tips and details about each species.
Lake Elsinore Amenities
Marina: YES
Boat Rental: YES
Boat Launch Ramp: YES
Campgrounds: YES
RV Hookups: YES
Lodging: YES
Convenience Store: YES
Bait & Tackle: YES
Restaurant: YES
Lake Elsinore Fishing Reports, Forums & Blogs
Weekly fishing reports and photos.
Camping & Campgrounds At Lake Elsinore
Crane Lakeside Park & RV Resort - 951 678-2112
Lake Elsinore Marina & RV Resort - 951 678-1300
Lake Park RV Resort - 888 505-2537
Today's Weather & Forecast
Average high and average low, monthly temperatures at Lake Elsinore.
January 66° - 39°
February 68° - 41°
March 72° - 43°
April 77° - 47°
May 84° - 52°
June 91° - 57°
July 98° - 62°
August 98° - 66°
September 94° - 59°
October 83° - 52°
November 73° - 44°
December 66° - 38°
Marinas
Lake Elsinore Marina & RV Resort
32700 Riverside Dr Lot #117
Lake Elsinore, CA 92530
800 328-6844
Public Boat Launch Ramps & Landings
SeaPort Boat Launch
Located in the northeast corner of the lake, off Lakeshore Drive, this is a four-lane, concrete ramp with a dock and paved parking. - 951 245-9308
Launch Pointe Recreation Destination Boat Ramp
Located in the northwest corner of the lake, off Riverside Drive, this is a six-lane, concrete ramp with a dock and paved parking.
La Laguna Resort & Boat Launch - 951 471-1212
Click here for a California fishing license.
Lake Elsinore CA Map - Fishing & Camping Areas
Lake Video
Contact Information
Lake Elsinore
City of Lake Elsinore
130 South Main Street
Lake Elsinore, CA 92530
951 674-3124
Fishing lakes in each state.
Lake Elsinore in Southern California.
Bass, crappie and catfish fishing in southwest CA.
Fishing at Lake Elsinore, in California.