Fishing At June Lake In Central CA
What to fish for...
Guide to fishing for rainbow trout, cutthroat trout and brown trout at June Lake in California.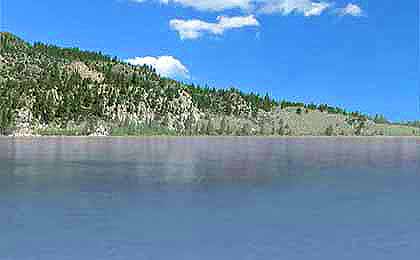 Located in the eastern Sierra Nevada, June Lake is one of four lakes in the June Lake Loop. At an elevation above 7,200 feet it is a 160-acre fishery for trout. The lake is approximately one mile long by one-half mile wide. Campgrounds are available for camping at the lake.
June Lake, situated in the scenic Eastern Sierra region of California, is a picturesque destination renowned for its excellent fishing opportunities. The lake is surrounded by majestic mountains and offers a serene setting for anglers to enjoy their favorite pastime. It is known for its crystal-clear waters and diverse fish species, making it a popular spot for both recreational and competitive fishing.
One of the highlights of fishing in June Lake is the abundance of trout species. Rainbow trout, brown trout, and brook trout are commonly found in the lake, providing anglers with exciting opportunities to catch these prized fish. The nutrient-rich waters of June Lake support a healthy fish population, ensuring a rewarding fishing experience for visitors of all skill levels.
Boating is a popular activity on June Lake, allowing anglers to explore different parts of the lake and access prime fishing spots. Whether you bring your own boat or rent one locally, you can navigate the tranquil waters and find the ideal location to cast your line. Boating also adds a sense of adventure to your fishing trip, as you can explore the lake's hidden coves and scenic shorelines.
Camping is another cherished activity at June Lake, with several campgrounds located in close proximity to the lake. From tent camping to RV camping, there are options available to suit every camping style. Waking up to the peaceful ambiance of June Lake, surrounded by nature's beauty, creates a memorable experience for anglers and outdoor enthusiasts. Campers can enjoy fishing early in the morning or unwind by the campfire after a successful day on the water.
June Lake's natural beauty, diverse fish species, boating opportunities, and camping facilities make it a sought-after destination for anglers and nature lovers. Whether you're a seasoned angler or a beginner, the lake's tranquil surroundings and excellent fishing conditions provide an ideal setting for a memorable fishing trip. Whether you're casting your line from the shore or exploring the lake by boat, June Lake offers a rewarding fishing experience amidst stunning scenery.
There is an annual June Lake Triathlon which attracts athletes and their families each summer. Hiking in the scenic mountains surrounding the lake is also a favorite of many visitors.
Fishing At June Lake
During the season anglers catch rainbow, brown and cutthroat trout. The lake is stocked with rainbow trout.
Primary fish species residing in June Lake.
Click images for fishing tips and details about each species.
June Lake Amenities
Marina: YES
Boat Rental: YES
Boat Launch Ramp: YES
Campgrounds: YES
RV Hookups: YES
Lodging: NEARBY
Convenience Store: YES
Bait & Tackle: NEARBY
Restaurant: NEARBY
June Lake Fishing Reports, Forums & Blogs
Camping & Campgrounds At June Lake
June Lake RV Park - 760 648-7967
Golden Pine RV Park - 760 648-7473
Pine Cliff RV Resort & Campground - 760 648-7558
Today's Weather & Forecast
Average high and average low, monthly temperatures at June Lake.
January 40° - 6°
February 42° - 8°
March 44° - 12°
April 51° - 18°
May 60° - 25°
June 70° - 31°
July 77° - 35°
August 76° - 33°
September 70° - 27°
October 60° - 20°
November 48° - 13°
December 41° - 6°
Fishing Boat Rentals
June Lake Marina
Rentals: Fishing boats, canoes, kayaks and pontoons
760 648-7726
Marinas
June Lake Marina
125 Brenner St
June Lake, CA 93529
760 648-7726
Public Boat Launch Ramps & Landings
June Lake Marina Boat Launch
Located in the southeast corner of the lake, off Big Rock Road, this is a one-lane, concrete ramp with gravel parking.
Click here for a California fishing license.
June Lake CA Map - Fishing & Camping Areas
Lake Video
Contact Information
June Lake
June Lake Loop Chamber of Commerce
P O Box 2,
June Lake, CA 93529
760 648-4651
Fishing lakes in each state.
June Lake in Central California.
Great trout fishing in northeast CA.
Fishing at June Lake, in California.