Guide To Fishing At Lake Pillsbury In Northern CA
AKA: Pillsbury Reservoir
What to fish for...
Fishing for largemouth bass, rainbow trout, steelhead, bluegill and green sunfish at Lake Pillsbury in California.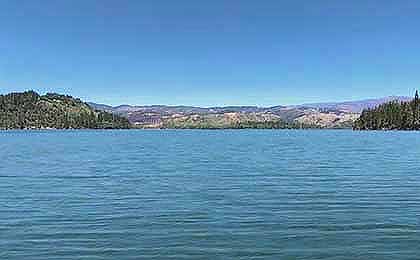 Bass, trout and bluegill all bite well at Lake Pillsbury, a 2,300 acre reservoir in the northwest part of the state, 20 miles east of Redwood Valley. Fishing from the bank is popular with many areas to do so along thirty plus miles of shoreline. Boating access options include Lake Pillsbury Resort, mid lake on the west side of the lake, Fuller Grove Campground in the northwest corner of the lake, and a few primitive spots depending on lake levels and weather. Rental boats are available at the lodge.
Lake Pillsbury, located in Northern California's Mendocino National Forest, is a hidden gem for fishing enthusiasts seeking a tranquil and picturesque fishing experience. The lake is known for its excellent fishing opportunities and diverse fish species. Anglers can try their luck catching species such as bass, trout, catfish, bluegill, crappie, and sunfish. Whether you prefer bait fishing, fly fishing, or trolling, the crystal-clear waters of Lake Pillsbury provide ample opportunities to reel in a variety of fish.
Boating is a popular activity at Lake Pillsbury, and visitors can bring their boats or rent them from nearby marinas. The lake offers plenty of space for watercraft, from speedboats and pontoons to canoes and kayaks. Exploring the lake's secluded coves, cruising along the scenic shoreline, or engaging in water sports such as water skiing and wakeboarding are all part of the boating experience at Lake Pillsbury.
Camping at Lake Pillsbury allows visitors to immerse themselves in the beauty of nature. The lake offers several campgrounds with various amenities, including picnic tables, fire rings, and restroom facilities. Whether you prefer RV camping or tent camping, there are options available to suit your needs. Waking up to the peaceful sounds of nature, surrounded by towering trees and the shimmering lake, is a truly enchanting experience at Lake Pillsbury.
The surrounding area offers additional recreational activities for outdoor enthusiasts. Hiking trails weave through the scenic landscape, providing opportunities to explore the lush forests and enjoy breathtaking views of the lake. Wildlife watching is a popular pastime, as the area is home to a diverse array of wildlife, including deer, bald eagles, and various bird species. The tranquility of Lake Pillsbury and its surroundings make it an ideal destination for those seeking a peaceful retreat and a chance to connect with nature.
It's important to note that Lake Pillsbury is located in a remote area, and visitors should come prepared with supplies and provisions. Cell phone service may be limited, and amenities near the lake are limited, so planning ahead is essential for a comfortable and enjoyable experience.
Lake Pillsbury in California offers a serene and picturesque fishing experience. With its diverse fish species, ample boating opportunities, scenic campgrounds, and surrounding natural beauty, the lake provides a peaceful escape for outdoor enthusiasts. Whether you're casting a line, exploring the lake by boat, setting up camp, or hiking through the surrounding forests, Lake Pillsbury offers a tranquil and immersive outdoor experience that will leave you with lasting memories.
Primary fish species residing in Lake Pillsbury
Click images for fishing tips and details about each species.
Lake Pillsbury Amenities
Marina: NO
Boat Rental: YES
Boat Launch Ramp: YES
Campgrounds: YES
RV Hookups: YES
Lodging: YES
Convenience Store: YES
Bait & Tackle: YES
Restaurant: NO
Today's Weather & Forecast
Public Boat Launch Ramps & Landings
Fuller Grove Campground Boat Ramp
Located in the northwest corner of the lake, off 18 N 74 Road, this is a two-lane, concrete ramp with a dock and paved parking.
Click here for a California fishing license.
Campgrounds & RV Parks Nearby
Lake Pillsbury Resort Campground - 707 743-9935
Fuller Grove Campground - 916 386-5164
Pogie Point Campground - 916 386-5164
Navy Camp Campground - 916 386-5164
Sunset Campground - 916 386-5164
Lake Pillsbury CA Map - Fishing & Camping Areas
Lake Video
Contact Information
Lake Pillsbury
Lake Pillsbury Resort
2756 Kapronos Rd
Potter Valley, CA 95469
707 743-9935
Fishing lakes in each state.
Lake Pillsbury in Northern California.
Fishing for bass and trout in northwest CA.
Lake Pillsbury, in California.