Guide To Fishing At Donner Lake In Northern CA
AKA: Donner Reservoir
What to fish for...
Fishing for rainbow trout, brown trout, lake trout, kokanee salmon and sockeye salmon at Donner Lake in California.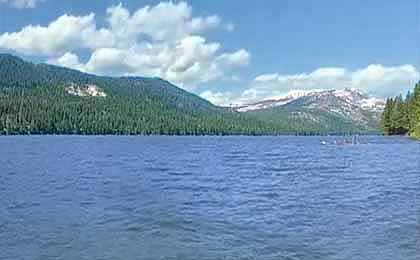 This picturesque, mountain lake is an excellent connection to nature and the great outdoors. Donner Lake, which covers 950 acres, is located in the northeast part of the state, just north of Lake Tahoe. This cold-water fishery serves up a nice mix of trout and salmon. Fishing from a boat is ideal, but many anglers have success fishing from shore. Kayaks and canoes are popular here as well, for fishing and sightseeing.
Donner Lake, nestled in the Sierra Nevada Mountains of California, is a picturesque destination for fishing enthusiasts. The lake is renowned for its natural beauty and abundance of fish species, making it a favorite spot for anglers of all levels of experience. One of the prominent fish species found in Donner Lake is the lake trout, also known as Mackinaw trout. These deep-dwelling predators offer an exciting challenge for anglers, known for their size and strength.
In addition to lake trout, Donner Lake is also home to other popular fish species such as rainbow trout, brown trout, and kokanee salmon. These species attract anglers with their vibrant colors and thrilling fights. Rainbow trout are regularly stocked in the lake, providing ample opportunities for anglers to reel in their catch.
Boating is a popular activity on Donner Lake, allowing anglers to access various fishing spots and explore the lake's scenic beauty. The lake has public boat ramps where visitors can launch their boats, including fishing boats, pontoon boats, and kayaks. Anglers can cruise along the lake's crystal-clear waters, cast their lines, and enjoy the serene surroundings.
Camping facilities are available near Donner Lake, offering a chance to immerse oneself in nature while enjoying the fishing experience. There are campgrounds with amenities such as picnic areas, fire pits, and restrooms, providing a comfortable and convenient camping experience for visitors. Camping near the lake allows anglers to fully embrace the beauty of the surrounding landscape and enjoy peaceful evenings under the stars.
Beyond fishing, Donner Lake offers a range of recreational activities for outdoor enthusiasts. The lake is ideal for swimming, paddleboarding, and kayaking during the warmer months, providing a refreshing escape from the heat. The surrounding area offers opportunities for hiking, mountain biking, and wildlife viewing, allowing visitors to explore the natural wonders of the region.
With its breathtaking scenery and diverse fish population, Donner Lake is a haven for anglers and nature lovers alike. Whether you're targeting lake trout, rainbow trout, or other species, or simply seeking a serene camping experience surrounded by majestic mountains, Donner Lake offers a memorable fishing adventure in the heart of California's stunning landscape.
Primary fish species residing in Donner Lake.
Click images for fishing tips and details about each species.
Donner Lake Amenities
Marina: YES
Boat Rental: YES
Boat Launch Ramp: YES
Campgrounds: YES
RV Hookups: YES
Lodging: YES
Convenience Store: NEARBY
Bait & Tackle: NEARBY
Restaurant: YES
Today's Weather & Forecast
Fishing Boat Rentals
Donner Lake Marina
Rentals: Fishing boats and pontoons
530 582-5112
Marinas
Donner Lake Marina
15695 Donner Pass Rd
Truckee, CA 96161
530 582-5112
Public Boat Launch Ramps & Landings
Donner Pass Road Boat Launch
Located in the northwest corner of the lake, off Donner Pass Road, this is a two-lane, concrete ramp with a dock and paved parking.
Click here for a California fishing license.
Campgrounds & RV Parks Nearby
Tahoe Donner Campground - 530 587-9400
Creek Campground - 530 582-7892
Boyington Mill Campground - 530 265-4531
Donner Lake CA Map - Fishing & Camping Areas
Lake Video
Contact Information
Donner Lake
Donner Lake Marina
15695 Donner Pass Rd #101
Truckee, CA 96161
530 582-5112
Fishing lakes in each state.
Donner Lake in Northern California.
Trout and salmon fishing in northeast CA.
Fishing at Donner Lake, in California.