Fishing At Bucks Lake In Northern CA
AKA: Upper & Lower Bucks Lake
What to fish for...
Guide to fishing for rainbow trout, brook trout, brown trout, lake trout and kokanee salmon at Bucks Lake in California.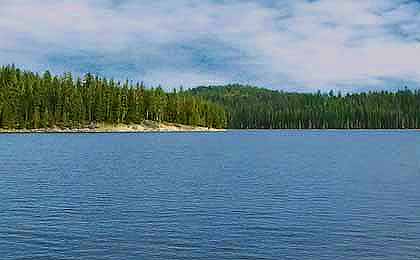 Terrific trout and kokanee fishing draws anglers from near and far to Bucks Lake, a 1,800 acre lake in the north central part of California, 50 miles west of Chico. Big lake trout (Mackinaw over 16 pounds), plentiful rainbow, brook and brown trout, and kokanee salmon thrive in the cool, clear water of this fertile fishery.
Bucks Lake, nestled in the Sierra Nevada Mountains of Northern California, is a picturesque destination that offers excellent fishing opportunities for anglers of all levels. The lake is known for its pristine waters and abundance of fish species, making it a popular spot for fishing enthusiasts. One of the primary game fish species found in Bucks Lake is the rainbow trout. These trout thrive in the cold, clear waters of the lake and provide exciting angling action. Anglers can try their luck by casting from the shore, trolling with lures or bait, or fly fishing to entice these beautiful trout.
Aside from rainbow trout, Bucks Lake is also home to brown trout, kokanee salmon, and smallmouth bass. Brown trout, known for their elusive nature, offer a rewarding challenge for anglers seeking a bit of excitement. Kokanee salmon, a landlocked variation of sockeye salmon, are prized for their fighting ability and delicious taste. Smallmouth bass, with their strong fighting spirit, are sought after by anglers looking for some bass fishing action.
Boating is a popular activity at Bucks Lake, and anglers can take advantage of the calm waters to explore the lake and access prime fishing spots. The lake offers boat rentals and has multiple boat ramps available for easy launching. Whether you prefer a fishing boat, kayak, or pontoon boat, Bucks Lake provides ample space for boating enthusiasts to enjoy their time on the water.
Camping is another popular activity at Bucks Lake, with several campgrounds nestled along its shores. These campgrounds offer a range of camping options, from tent camping to RV camping, allowing visitors to immerse themselves in the serene natural surroundings. Camping near Bucks Lake provides anglers with the convenience of staying close to the fishing action and enjoying the peaceful ambiance of the area.
In addition to fishing and camping, Bucks Lake offers opportunities for swimming, hiking, and wildlife viewing. The surrounding forests and trails provide ample opportunities for outdoor recreation and exploration.
With its stunning natural beauty, diverse fishery, and range of recreational activities, Bucks Lake is a haven for anglers and outdoor enthusiasts in California. Whether you're casting for trout, targeting salmon or bass, or simply enjoying a tranquil camping experience, Bucks Lake offers an unforgettable outdoor adventure.
The lake has seventeen miles of shoreline, much of which is private property, but there is still plenty of room at numerous places around the lake for fishing from the bank. Boating access is via boat launch ramps at Sandy Point Day Use Area, Bucks Lake Marina, Lower Bucks Campground, Bucks Lakeshore Resort and Haskins Valley Family Campground.
Primary fish species residing in Bucks Lake
Click images for fishing tips and details about each species.
Bucks Lake Amenities
Marina: YES
Boat Rental: YES
Boat Launch Ramp: YES
Campgrounds: YES
RV Hookups: YES
Lodging: YES
Convenience Store: YES
Bait & Tackle: YES
Restaurant: YES
Today's Weather & Forecast
Fishing Boat Rentals
Bucks Lake Marina
Rentals: Fishing boats, kayaks and pontoons
530 283-4243
Marinas
Bucks Lake Marina
16469 Bucks Lake Rd
Quincy, CA 95971
530 283-4243
Public Boat Launch Ramps & Landings
Bucks Lakeshore Resort Boat Ramp
Located mid lake, on the south side of the lake, off Bucks Lake Road, this is a two-lane, concrete ramp with a dock and limited parking.
Sandy Point Day Use Area and Boat Launch
Located mid lake, on the north side of the lake, off Highway 33, this is a one-lane, concrete ramp paved parking.
Click here for a California fishing license.
Campgrounds & RV Parks Nearby
Bucks Lake Marina RV Park & Campground - 530 283-4243
Bucks Lake Camp & RV Park - 530 283-2221
Haskins Valley Family Campground - 916 386-5164
Sundew Campground - 707 799-4453
Lower Bucks Campground - 530 283-0555
Bucks Lake CA Map - Fishing & Camping Areas
Lake Video
Contact Information
Bucks Lake
Bucks Lake Marina
16469 Bucks Lake Rd
Quincy, CA 95971
530 283-4243
Fishing lakes in each state.
Bucks Lake in Northern California.
Fishing for trout and kokanee in central CA.
Bucks Lake, in California.