Fishing At Bass Lake In Central CA
What to fish for...
Guide to fishing for largemouth bass, channel catfish, black crappie, rainbow trout, bluegill and kokanee salmon at Bass Lake in California.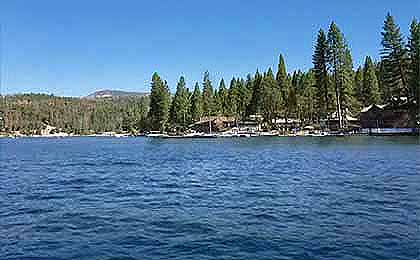 Whether you like to target a specific species, or catch a variety species, you might be surprised to know that Bass Lake is inhabited by many species. The lake also has catfish, crappie, trout, bluegill and salmon. And, this is a place you might catch that fish of a lifetime.
Bass Lake, nestled in the Sierra National Forest of California, is a renowned fishing destination that offers a fantastic angling experience for both novice and experienced anglers alike. As the name suggests, Bass Lake is known for its thriving bass population, with largemouth and smallmouth bass being the primary species targeted by anglers. These bass provide thrilling strikes and exhilarating fights, making Bass Lake a favorite spot for bass fishing enthusiasts.
Apart from bass, Bass Lake is also home to other popular game fish species. Rainbow trout, brown trout, and kokanee salmon are stocked in the lake, providing additional angling opportunities. Anglers can employ various techniques such as trolling with lures or bait, casting from the shore, or fly fishing to target these trout species. The cool and clear waters of Bass Lake create an ideal habitat for these trout, resulting in excellent fishing prospects.
In terms of boating, Bass Lake offers plenty of options for boaters. Anglers can launch their boats from multiple public boat ramps located around the lake, allowing for easy access to the prime fishing areas. Whether it's a fishing boat, kayak, or pontoon boat, there's ample space to explore the lake's scenic shoreline and search for the best fishing spots.
Camping is a popular activity at Bass Lake, with several campgrounds available along its picturesque shores. From tent camping to RV camping, visitors can immerse themselves in the serene natural beauty and enjoy the tranquility of the surroundings. Camping near Bass Lake allows anglers to maximize their fishing time and fully experience the peaceful ambiance of the area.
In addition to fishing, Bass Lake offers a range of recreational activities. Visitors can swim, paddleboard, or simply relax on the sandy beaches. The surrounding Sierra National Forest offers opportunities for hiking, mountain biking, and wildlife viewing, allowing anglers to make the most of their outdoor adventure.
Bass Lake's scenic beauty, diverse fishery, and range of outdoor activities make it a popular destination for anglers and nature enthusiasts in California. Whether you're seeking a thrilling bass fishing experience, casting for trout, or simply enjoying a peaceful camping trip, Bass Lake provides a picturesque setting to create lasting memories.
Surrounded by pine trees and mountains, the views are spectacular. The lake is healthy with abundant populations of fish. While fishing is generally more productive from a boat or kayak, fishing from shore at Bass Lake can also be quite rewarding. There is plenty of camping around the lake, marinas, boat rentals, stores and dining options. Bring the family and enjoy this fishing paradise.
Primary fish species residing in Bass Lake.
Click images for fishing tips and details about each species.
Bass Lake Amenities
Marina: YES
Boat Rental: YES
Boat Launch Ramp: YES
Campgrounds: YES
RV Hookups: YES
Lodging: YES
Convenience Store: YES
Bait & Tackle: YES
Restaurant: YES
Today's Weather & Forecast
Fishing Boat Rentals
Bass Lake Boat Rentals and Watersports
Rentals: Fishing boats, kayaks and pontoons
559 642-3200
Pines Marina Bass Lake Boat Rentals
Rentals: Pontoon boats and kayaks
559 642-3200
Marinas
Pines Marina Bass Lake Boat Rentals
54432 Rd 432
Bass Lake, CA 93604
559 642-3200
Public Boat Launch Ramps & Landings
Wishon Boat Launch
Located in the southwest corner of the lake, off S Shore Drive, this is a two-lane, concrete ramp with a dock and paved parking.
Click here for a California fishing license.
Campgrounds & RV Parks Nearby
Bass Lake Recreation Area & Campground - 559 642-3212
Forks Campground - 559 877-2218
Cedar Bluff Campground - 559 642-3212
Spring Cove Campground - 559 642-3212
Bass Lake CA Map - Fishing & Camping Areas
Lake Video
Contact Information
Bass Lake
Miller's Landing Resort & Marina
37976 Rd 222
Wishon, CA 93669
559 642-3633
Fishing lakes in each state.
Bass Lake in Central California.
Bass, trout and salmon fishing in central CA.
Fishing at Bass Lake, in California.