Fishing At Lake Piru In Southern CA
AKA: Piru Reservoir
What to fish for...
Guide to fishing for largemouth bass, channel catfish, blue catfish, black crappie, rainbow trout, brown trout, bluegill, green sunfish and redear sunfish at Lake Piru in California.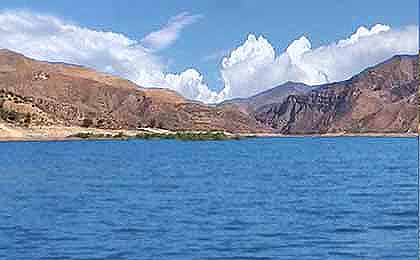 If you like the outdoors, boating and fishing, you'll love this place. Lake Piru is a 1,200 acre lake, in Southern CA, just five miles north of the city of Piru, and northwest of Castaic Junction. A nice marina, picnic areas, campgrounds, a convenience store and a snack bar enhance your trip to Piru. Kayak fishing is popular with access to quite a variety of fish species. Bass, crappie, catfish and trout are abundant in the lake - so spend a day fishing for your favorite.
Nestled in the picturesque mountains of Southern California, Lake Piru offers a fantastic fishing experience for anglers of all skill levels. The lake is known for its abundance of fish species, making it a popular destination for fishing enthusiasts. Anglers can expect to catch a variety of species, including largemouth bass, smallmouth bass, catfish, trout, bluegill, and crappie.
Fishing at Lake Piru can be enjoyed from the shoreline or by boat. The lake is well-suited for both recreational boating and fishing boats, with ample space to navigate and explore. Whether you prefer casting from the shore or trolling from your boat, there are plenty of opportunities to reel in a big catch at Lake Piru.
Camping at Lake Piru is a wonderful way to extend your fishing adventure and immerse yourself in the natural beauty of the surrounding area. The lake features several campgrounds equipped with facilities such as picnic tables, fire rings, and restrooms. Camping enthusiasts can choose from various options, including tent camping, RV camping, and even cabin rentals, ensuring a comfortable and enjoyable stay.
In addition to fishing and camping, Lake Piru offers a range of recreational activities to enjoy. Boaters can explore the lake's secluded coves, go water skiing, or try their hand at wakeboarding. Kayaking and paddleboarding are also popular activities for those seeking a more peaceful and intimate experience on the water.
The surrounding area of Lake Piru is a paradise for outdoor enthusiasts. Hiking trails wind through the nearby Los Padres National Forest, providing stunning views of the lake and opportunities to observe local wildlife. Birdwatchers will delight in the diverse bird species that call the lake and its surroundings home.
When planning a visit to Lake Piru, it's important to note that the lake is operated by the United Water Conservation District, and certain regulations and permits may apply. It's recommended to check the local fishing and camping regulations, as well as any updates on water levels and conditions, to ensure a safe and enjoyable experience.
Lake Piru in California offers a fantastic fishing experience amidst breathtaking natural surroundings. With its diverse fish species, opportunities for boating and water sports, scenic campgrounds, and nearby hiking trails, Lake Piru provides a perfect getaway for outdoor enthusiasts. Whether you're casting a line, exploring the lake by boat, setting up camp, or embarking on a scenic hike, Lake Piru promises an unforgettable outdoor adventure.
Primary fish species residing in Lake Piru.
Click images for fishing tips and details about
Lake Piru Amenities
Marina: YES
Boat Rental: NO
Boat Launch Ramp: YES
Campgrounds: YES
RV Hookups: YES
Lodging: NEARBY
Convenience Store: YES
Bait & Tackle: NO
Snack Bar: YES
Today's Weather & Forecast
Public Boat Launch Ramps & Landings
Lake Piru Recreation Area Boat Ramp
Located mid lake, on the west side of the lake, off Piru Canyon Road, this is a multi-lane, concrete ramp with a dock and plenty of paved parking.
Click here for a California fishing license.
Campgrounds & RV Parks Nearby
Lake Piru Campground - 805 521-1500
Lake Piru CA Map - Fishing & Camping Areas
Lake Video
Contact Information
Lake Piru
Lake Piru Campground
4780 Piru Canyon Rd
Piru, CA 93040
805 521-1500
Fishing lakes in each state.
Lake Piru in Southern California.
Bass, crappie and trout fishing in southern CA.
Fishing at Lake Piru, in California.