Fishing At Waubay Lake
AKA: Waubay Reservoir
What to fish for...
Guide to fishing for smallmouth bass, black crappie, walleye, bluegill, rock bass, white bass, yellow perch and northern pike at Waubay Lake in South Dakota.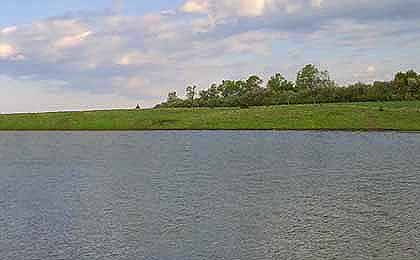 Walleye, in good numbers and size, are the reason anglers are drawn to Waubay Lake, a 15,000-acre lake, located at Grenville. Shaped like a giant splatter of paint, this lake has hundreds of miles of shoreline, and it's loaded with fish.
Waubay Lake is located in northeastern South Dakota and is part of the Prairie Coteau region. This 5,200-acre lake is a popular destination for anglers seeking a variety of fish species and a tranquil fishing experience. The lake's diverse habitat, with its many islands, bays, and weed beds, creates an ideal environment for a wide range of fish to thrive.
Walleye fishing is a major attraction at Waubay Lake, and the lake has gained a reputation as one of the best walleye fisheries in South Dakota. Anglers can expect to find good numbers of walleye, particularly during the spring and fall seasons when they are most active. Trolling, jigging, and live bait presentations are popular methods for targeting these elusive fish.
Smallmouth bass is another prized species in Waubay Lake. Anglers can find smallmouth bass around rocky structures, drop-offs, and points. These hard-fighting fish provide an exciting challenge and are a favorite among bass enthusiasts.
Black crappie and white bass are also abundant in the lake. These panfish species offer fantastic opportunities for both adults and young anglers to enjoy a successful day of fishing. They can be found near submerged structures, and anglers often have success using small jigs and live bait.
Northern pike is a top predator in Waubay Lake, and the lake offers excellent pike fishing opportunities. These aggressive fish can be targeted using various artificial lures and live baits.
Bluegill and yellow perch are plentiful in the lake and are perfect targets for families and novice anglers. These panfish species can be found in shallow waters, particularly around the lake's vegetation.
Boating is a popular activity on Waubay Lake, with several boat ramps providing easy access for anglers. Whether you prefer trolling, casting, or cruising the lake's scenic waters, boating adds to the overall fishing experience.
Camping facilities are available around the lake, making it convenient for anglers and outdoor enthusiasts to extend their stay. The peaceful surroundings and picturesque landscape make Waubay Lake an excellent destination for a fishing trip or a relaxing camping getaway.
Waubay Lake in South Dakota offers a diverse fishing experience with its abundance of walleye, smallmouth bass, black crappie, white bass, northern pike, bluegill, and yellow perch. The lake's varied habitat and plentiful fish populations make it an attractive destination for anglers of all ages and skill levels. With its boating opportunities and camping facilities, Waubay Lake provides an enjoyable and memorable outdoor experience in the heart of South Dakota's Prairie Coteau region.
There is a boat launch ramp on the north shore at the Grenville Access Area, one at the upper west shore off 136th Street and Gaikowski Drive, and nice boat ramp on the southwest shore at the Kanago Access Area off 436th Ave. Even though the lake is most suited for boat fishing, anglers wishing to fish from the bank can find access all around the lake.

Primary fish species residing in Waubay Lake
Click images for fishing tips and details about each species.
Waubay Lake Amenities
Marina: NO
Boat Rental: NO
Boat Launch Ramp: YES
Campgrounds: YES
RV Hookups: YES
Lodging: NEARBY
Convenience Store: YES
Bait & Tackle: YES
Restaurant: NEARBY
Today's Weather & Forecast
Public Boat Launch Ramps & Landings
Boat Ramp SW Fee
Located mid lake, west side, off 436th Avenue, this is a two-lane, concrete ramp with a dock and gravel parking.
Kanago Access Boat Launch Ramp
Located in the southwest section of the lake, off 436th Avenue, this is a two-lane, concrete ramp with a dock and gravel parking.
Grenville Access Area Boat Launch Ramp
Located mid lake, on the north side of the lake, off State Route 6, this is a two-lane, concrete ramp with a dock and gravel parking.
Click here for a South Dakota Fishing License.
Campgrounds & RV Parks Nearby
Ice Rock Campground - 605 321-7974
Lake Country Campground - 605 940-5420
Waubay Lake SD Map - Fishing & Camping Areas
Lake Video
Contact Information
Waubay Lake
Lake Country Campground, Waubay
44593 132nd St
Waubay, SD 57273
605 940-5420
Fishing lakes in each state.
Waubay Lake in SD
SOUTH DAKOTA


Fishing for walleye and smallmouth bass in northeast SD.
Waubay Lake, in South Dakota.