Fishing At Utah Lake
AKA: Lake Utah
What to fish for...
Guide to fishing for largemouth bass, channel catfish, black crappie, walleye, bluegill, green sunfish, white bass, yellow perch and northern pike at Utah Lake in Utah.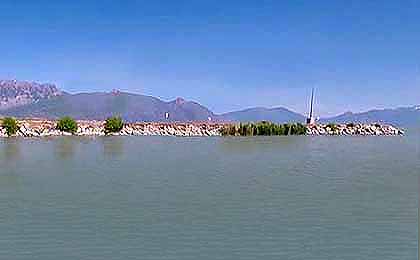 Fishing is a major draw at Utah Lake, a 97,000-acre lake at Provo. The lake has about 70 miles of shoreline, depending on water levels.
Utah Lake is a large freshwater lake located in north-central Utah, covering an area of around 150 square miles. It is situated in Utah Valley, south of the city of Salt Lake City, making it easily accessible to anglers from the surrounding areas.
The lake offers a diverse range of fishing opportunities, making it a popular destination for anglers of all levels of experience. One of the popular attractions for fishing in Utah Lake is its abundant population of largemouth bass. The lake provides excellent conditions for largemouth bass to thrive, and they can be found throughout the year.
In addition to largemouth bass, Utah Lake is also known for its walleye fishing. Walleye are a prized game fish and are abundant in the lake. Anglers often have success targeting walleye using various techniques such as trolling, jigging, and casting.
Other popular fish species in Utah Lake include black crappie, yellow perch, bluegill, northern pike, and white bass. These species provide additional fishing opportunities and add to the variety of angling experiences available at the lake.
Utah Lake's relatively shallow waters, averaging around 10 feet deep, make it an ideal location for boating and camping. Boaters can enjoy exploring the lake and finding the best fishing spots, while campers can take advantage of the designated camping areas along the shoreline.
The best time for fishing at Utah Lake varies depending on the species and the time of year. Largemouth bass and other warm-water species are more active during the warmer months of spring, summer, and early fall. Walleye fishing, on the other hand, tends to be better during the cooler months of late fall and early spring.
Utah Lake offers a rich fishing experience for anglers seeking a variety of fish species and a beautiful natural setting. Whether you're casting a line from the shore or cruising the lake by boat, Utah Lake is a prime location for fishing, boating, and camping adventures in Utah.
Access to the shore is plentiful for fishing from the bank, although some areas may require a bit of walking/hiking. Half a dozen places around the lake have boat ramps for launching pleasure and fishing boats. Canoes and kayaks can be launched from other public access areas. Several marinas, stores and dining options are readily available close by the lake. Camping, lodging and RV parks are near the water with nice views.

Primary fish species residing in Utah Lake
Click images for fishing tips and details about each species.
Utah Lake Amenities
Marina: YES
Boat Rental: YES
Boat Launch Ramp: YES
Campgrounds: YES
RV Hookups: YES
Lodging: YES
Convenience Store: YES
Bait & Tackle: YES
Restaurant: YES
Today's Weather & Forecast
Fishing Boat Rentals
Lindon Marina
Rentals: Row boats, kayaks and canoes
801 980-1104
Public Boat Launch Ramps & Landings
American Fork Boat Launch Ramp
Located mid lake, on the north side of the lake, off 100 W, this is a five-lane, concrete ramp with docks and paved parking.
Lincoln Beach Boat Launch Ramp
Located mid lake, east side, off Lincoln Beach Road, this is a three-lane, concrete ramp with a dock and paved parking.
Lindon Marina Boat Launch Ramp
Located in the northeast section of the lake, off W Vineyard Road, this is a five-lane, concrete ramp with docks and paved parking.
Saratoga Springs Boat Launch Ramp
Located in the northwest section of the lake, west side, off Harbor Park Way, this is a four-lane, concrete ramp with a dock and paved parking.
Utah Lake State Park Boat Launch Ramp
Located mid lake, east side, off S Jetty Road, this is a ten-lane, concrete ramp with docks and paved parking.
Marinas
Lindon Marina
4400 W Vineyard Road
Vineyard, UT 84058
801 980-1104
Click here for a Utah Fishing License.
Campgrounds & RV Parks Nearby
Utah Lake State Park Campground - 801 375-0731
Lincoln Beach Campground - 801 851-8600
Springville-Provo KOA Journey Campground - 801 491-0700
Lakeside RV Campground - 801 373-5267
Utah Lake UT Map - Fishing & Camping Areas
Lake Video
Contact Information
Utah Lake
Utah Lake State Park
4400 W Center St
Provo, UT 84601
801 375-0731
Fishing lakes in each state.
Utah Lake in Utah.
UTAH


Information about fishing lakes in Utah
Fishing for bass, crappie, walleye, sunfish, perch, catfish and pike in north-central UT.
Fishing on Utah Lake.