Guide To Fishing At Grayson Lake
AKA: Grayson Reservoir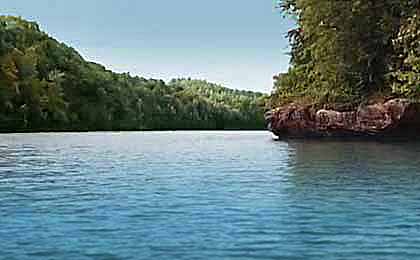 Surrounded by natural beauty, Grayson Lake is a 1,500-acre reservoir in the northeast corner of Kentucky, 8 miles south of the town of Grayson. The lake is blessed with a nice variety of fish species, including largemouth, spotted, smallmouth and hybrid striped bass.
Grayson Lake, located in northeastern Kentucky, is a picturesque destination known for its excellent fishing opportunities, boating adventures, and camping experiences. Surrounded by lush greenery and rolling hills, Grayson Lake offers a serene and scenic retreat for outdoor enthusiasts.
Fishing at Grayson Lake is a popular activity, drawing anglers in search of a variety of fish species. The lake is well-known for its abundance of largemouth bass, smallmouth bass, crappie, catfish, and bluegill. Anglers can cast their lines from the shoreline or venture out onto the calm waters in boats to target their desired species. Grayson Lake's diverse fishery ensures that anglers of all skill levels have the opportunity to reel in a satisfying catch.
Boating is a favored pastime on Grayson Lake, offering a great way to explore the tranquil waters and beautiful surroundings. Boaters can cruise along the lake, taking in the breathtaking views and enjoying the peaceful ambiance. Whether you're paddling in a kayak, steering a pontoon boat, or water skiing behind a speedboat, Grayson Lake provides an ideal setting for boating enthusiasts. The lake features boat ramps for convenient access, ensuring that boaters can make the most of their time on the water.
Camping at Grayson Lake provides an opportunity to immerse oneself in nature and enjoy the beauty of the area. The lake offers campgrounds and RV parks that cater to various camping preferences. From primitive tent sites to full RV hookups, campers can find the perfect spot to relax and unwind. The campgrounds often provide amenities such as picnic areas, playgrounds, and hiking trails, allowing visitors to fully enjoy their time at Grayson Lake.
Nature lovers will appreciate the natural wonders surrounding Grayson Lake. The lake is nestled within the sprawling Daniel Boone National Forest, offering opportunities for hiking, wildlife viewing, and birdwatching. Visitors can explore the forested trails, spot various bird species, and embrace the tranquility of the wilderness.
Grayson Lake is a hidden gem in Kentucky, offering a serene and scenic environment for fishing, boating, and camping. Its diverse fish populations, calm waters, and natural beauty make it an ideal destination for outdoor enthusiasts. Whether you're casting a line, exploring the lake by boat, or spending a night under the stars, Grayson Lake provides a memorable experience in the heart of Kentucky's enchanting landscapes.
Additionally fishing enthusiasts can fish for crappie, white bass and bream. The marina offers rental fishing and pontoon boats, plus a store, bait and typical marina services. Grayson Lake State Park offers camping and RV hookups and makes a great place to hunker down for a weekend fishing trip or an extended vacation. Canoes and kayaks are popular here and can be portaged from several areas around the lake. Discover over 70 miles of shoreline by boat, or find a place to fish from the bank.

What to fish for...
Fishing for largemouth bass, smallmouth bass, spotted bass, black crappie, white crappie, bluegill, white bass and hybrid striped bass at Grayson Lake in Kentucky.
Primary fish species residing in Grayson Lake
Click images for fishing tips and details about each species.
Grayson Lake Amenities
Marina: YES
Boat Rental: YES
Boat Launch Ramp: YES
Campgrounds: YES
RV Hookups: YES
Lodging: YES
Convenience Store: NEARBY
Bait & Tackle: YES
Restaurant: NO
Today's Weather & Forecast
Public Boat Launch Ramps & Landings
Bruin Boat Launch Ramp
Located mid lake, east side, off State Road 7, this is a four-lane, concrete ramp with a dock and paved parking.
Clifty Creek Boat Launch Ramp
Located mid lake, west side, north side of the west arm, at the north end of the State Road 7 Bridge, this is a one-lane, concrete ramp with gravel parking.
Grayson Lake Marina Boat Launch Ramp
Located in the northwest corner of the lake, off Launch Ramp Road, this is a four-lane, concrete ramp with docks and paved parking.
Click here for a Kentucky Fishing License.
Campgrounds & RV Parks Nearby
Grayson Lake State Park Campground - 606 474-9727
Shady Valley Campground and Cabin Rentals - 606 474-0103
Grayson Lake KY Map - Fishing & Camping Areas
Lake Video
Contact Information
Grayson Lake
Grayson Lake State Park
314 Grayson Lake State Park Rd
Olive Hill, KY 41164
606 474-9727
Fishing lakes in each state.
Grayson Lake in KY
KENTUCKY


Fishing for bass, bluegill, crappie and catfish in northeast KY.
Grayson Lake, in Kentucky.