Fishing At Chilhowee Lake
AKA: Chilhowee Reservoir, Lake Chilhowee
What to fish for...
Guide to fishing for largemouth bass, smallmouth bass, spotted bass, channel catfish, blue catfish, black crappie, white crappie, walleye, rainbow trout, brown trout, bluegill, redear sunfish, rock bass and sauger at Chilhowee Lake in Tennessee.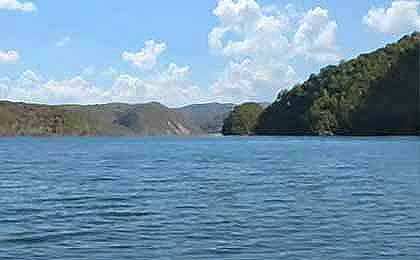 Ten miles long with twenty-six miles of shoreline, Chilhowee Lake is a 1,750-acre impoundment of the Little Tennessee River. Located in the southeast part of the state, at Chilhowee, TN, this cold-water lake is ideal for trout, walleye and smallmouth bass. Yet, these waters are warm enough to accommodate quality populations of largemouth and spotted bass, crappie, catfish, and a variety of sunfish. Lake-level variations move fish from shallow to deep and back. Current is often a factor during draw downs, filling or flowing water through the system. Bait tend to move with the current, and predator fish hide behind cover and pick them off as they drift by. The northeast portion of the lake is bordered by roads making easy access for fishing from the bank. Public boat ramps are available when water levels are near full.
Chilhowee Lake, nestled in the mountains of eastern Tennessee, offers a tranquil and picturesque setting for fishing, boating, and camping. This scenic 1,749-acre reservoir, located in the Cherokee National Forest, attracts anglers with its serene waters and diverse fish species.
Chilhowee Lake is known for its excellent fishing opportunities, particularly for smallmouth bass and largemouth bass. Anglers can enjoy casting their lines along the lake's rocky shorelines and submerged structures, which provide ideal habitats for these prized game fish. Smallmouth bass, renowned for their strong fights, can be found in deeper waters and around submerged boulders. Largemouth bass are prevalent throughout the lake and often strike a variety of baits, making them a popular target for anglers of all skill levels.
In addition to bass, Chilhowee Lake offers opportunities for catfish and crappie fishing. Channel catfish and blue catfish can be targeted using a range of techniques such as bottom fishing with cut bait or live bait. Crappie fishing is also productive, with both black and white crappie present in the lake. Anglers can find success by fishing near submerged brush piles and submerged timber, especially during the spring spawning season.
Boating on Chilhowee Lake allows visitors to explore the scenic beauty of the surrounding forested mountains. Anglers can launch their boats from the public access points and cruise the calm waters, enjoying the peaceful ambiance and breathtaking views. The lake is well-suited for small to medium-sized boats, providing opportunities for leisurely boating, fishing excursions, and wildlife observation.
Camping facilities are available near Chilhowee Lake, allowing anglers and outdoor enthusiasts to extend their stay and fully immerse themselves in the natural surroundings. Campgrounds offer various amenities such as campsites, picnic areas, and restroom facilities. Camping near Chilhowee Lake provides a serene and rejuvenating experience, with opportunities to enjoy hiking trails, birdwatching, and stargazing.
Chilhowee Lake's combination of excellent fishing, scenic beauty, and peaceful environment make it a hidden gem for outdoor enthusiasts in Tennessee. Whether you're casting a line for bass, enjoying a leisurely boat ride, or camping under the stars, Chilhowee Lake offers a serene and memorable experience for all who visit.

Primary fish species residing in Chilhowee Lake
Click images for fishing tips and details about each species.
Chilhowee Lake Amenities
Marina: NO
Boat Rental: NO
Boat Launch Ramp: YES
Campgrounds: NO
RV Hookups: NO
Lodging: NEARBY
Convenience Store: NO
Bait & Tackle: NO
Restaurant: NO
Today's Weather & Forecast
Marinas
Citico Boat Ramp Marina
Mt Pleasant Rd
Vonore, TN 37885
615 781-6500
Public Boat Launch Ramps & Landings
Riverbed Access Ramp
Located mid-lake, on the north side of the lake, off I-129, this is a two-lane, concrete ramp with limited, gravel parking.
Tabcat Creek Boat Ramp
This is a one-lane, concrete ramp with gravel parking. It is located off I-129 at Tabcat Creek.
Click here for a Tennessee Fishing License.
Campgrounds & RV Parks Nearby
No Campgrounds nearby Chilhowee Reservoir
Chilhowee Lake, TN Map - Fishing & Camping Areas
Lake Video
Contact Information
Chilhowee Lake
TWRA - Chilhowee Reservoir
423 587-7037
Fishing lakes in each state.
Chilhowee Lake in Tennessee.
TENNESSEE


Smallmouth bass, rainbow and brown trout, and walleye fishing in southeast TN.
Fishing at Chilhowee Lake, in Tennessee.