Guide To Fishing At Woods Reservoir
AKA: Woods Lake
What to fish for...
Fishing for largemouth bass, smallmouth bass, spotted bass, channel catfish, flathead catfish, black crappie, white crappie, walleye, bluegill, redear sunfish, rock bass, warmouth, white bass and yellow bass at Woods Reservoir in Tennessee.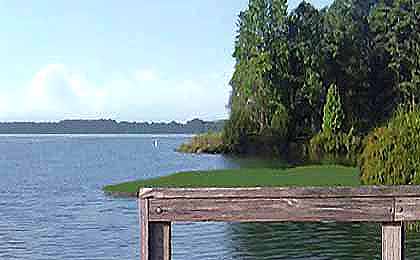 Considered one of the best crappie lakes in the state, Woods Reservoir is located on Arnold Air Force Base, in the south-central part of Tennessee. In addition to excellent crappie fishing, this 4,000 acre lake has sizable populations of a variety of fish species. Bass, walleye, catfish and sunfish also reside here, and are popular with local anglers. Fishing is open to the public, and there is a campground available to service members, past and present - see details.
Woods Reservoir, located in central Tennessee, is a hidden gem for anglers seeking a peaceful fishing experience. This 3,980-acre reservoir, formed by the Elk River, offers serene waters, diverse fish species, and opportunities for boating and camping.
Woods Reservoir is known for its excellent bass fishing. Largemouth bass and smallmouth bass are the primary targets for anglers, and the lake's structure, including submerged brush, rocky points, and ledges, provides ideal habitats for these game fish. Anglers can use a variety of techniques such as casting with crankbaits, jigs, and soft plastics to entice the bass. The lake's relatively calm waters and scenic shoreline make it an inviting destination for both casual and avid bass anglers.
In addition to bass, Woods Reservoir supports other popular fish species. Crappie fishing is productive, with both black and white crappie offering anglers opportunities for success. Anglers can find crappie near submerged structures, such as fallen trees and brush piles, where they congregate. The lake is also home to catfish, including channel catfish and blue catfish, which can be targeted using various baits and techniques. Other fish species found in the lake include sunfish and sauger, adding to the diversity of angling options.
Boating on Woods Reservoir allows anglers and outdoor enthusiasts to explore its peaceful waters. Boaters can launch their boats from public ramps and cruise the lake's tranquil expanse, taking in the scenic beauty of the surrounding wooded hillsides. The absence of heavy boat traffic makes it an ideal location for leisurely boating, fishing excursions, and wildlife observation.
Camping facilities near Woods Reservoir provide visitors with the opportunity to immerse themselves in the natural beauty of the area. Campgrounds offer amenities such as campsites, picnic areas, and restroom facilities. Camping near Woods Reservoir allows anglers and outdoor enthusiasts to extend their stay and fully enjoy the peaceful ambiance of the lake and its surrounding woodlands.
Woods Reservoir's combination of excellent bass fishing, serene boating opportunities, and camping facilities make it a beloved destination for anglers and nature lovers in Tennessee. Whether you're casting your line for bass, exploring the lake's calm waters by boat, or camping amidst the tranquil surroundings, Woods Reservoir offers a serene and enjoyable environment for all who visit.

Primary fish species residing in Woods Reservoir
Click images for fishing tips and details about each species.
Woods Reservoir Amenities
Marina: NO
Boat Rental: NO
Boat Launch Ramp: YES
Campgrounds: YES
RV Hookups: YES
Lodging: YES
Convenience Store: NEARBY
Bait & Tackle: NO
Restaurant: NEARBY
Today's Weather & Forecast
Public Boat Launch Ramps & Landings
Brumalow Creek Boat Ramp
Located mid lake, north side, off Manchester Beach Road, this is a two-lane, concrete ramp with a dock and gravel parking.
Franklin County Park Boat Ramp
This is a two-lane, concrete ramp with a dock and gravel parking. It is located in the southwest sector, south side, off Elder Road.
Morris Ferry Boat Dock
This is a single-lane, concrete ramp with a dock and gravel parking. It is located in the south-central sector, south side, off Morris Ferry Dock Road.
Click here for a Tennessee Fishing License.
Campgrounds & RV Parks Nearby
Arnold Air Force Base Outdoor Recreation Campground - 931 454-6084
Woods Reservoir, TN Map - Fishing & Camping Areas
Lake Video
Contact Information
Woods Reservoir
Arnold Air Force Base Outdoor Recreation
4176 Westover Rd
Tullahoma, TN 37388
931 454-6084
Fishing lakes in each state.
Woods Lake in Tennessee.
TENNESSEE


Some of the best crappie fishing in south-central TN.
Fishing at Woods Reservoir, in Tennessee.