Guide To Fishing At Dale Hollow Lake
AKA: Dale Hollow Reservoir
What to fish for...
Fishing for largemouth bass, smallmouth bass, spotted bass, channel catfish, flathead catfish, black crappie, white crappie, walleye, rainbow trout, brown trout, bluegill, redear sunfish, rock bass, warmouth, white bass, yellow bass, striped bass, hybrid striped bass, muskie, paddlefish and sauger at Dale Hollow Lake in Tennessee.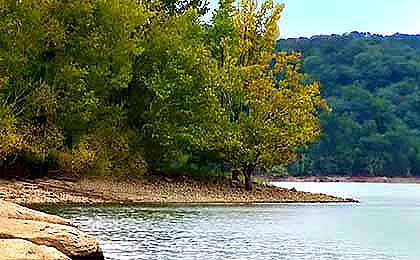 Renowned as the home of the world record smallmouth bass, Dale Hollow Reservoir is a 28,000-acre lake located in Kentucky and Tennessee, on the state borders, near Oakley, TN. In addition to excellent smallie fishing, the lake offers quality fishing opportunities for largemouth and spotted bass. Dale Hollow annually makes the Bassmaster Top 100 bass lakes in the USA. Crappie, catfish, trout, stripers, sunfish, walleye, muskie, paddlefish and others also reside in this impoundment. The nutrient rich water and plenty of forage unite to make this a fish factory - both for quantity and quality. Fishing from a boat is the desirable way to fish the lake. However, there are numerous places around the lake where bank fishing is accessible. And, with over 650 miles of shoreline, there are plenty of places to fish. Points, creek channels, ledges, humps and islands throughout the impoundment provide great habitat for fish - shallow in spring and fall, deeper in summer and winter. Places to portage a canoe or kayak are plentiful. There are numerous boat launch ramps around the lake for convenient launching of vessels ranging from small fishing boats, to family pleasure boats, to pontoon boats, to large sailboats and houseboats.
Dale Hollow Lake, located on the border of Tennessee and Kentucky, is a renowned fishing destination known for its crystal-clear waters, diverse fish populations, and picturesque surroundings. This 27,700-acre reservoir, created by the Obey River, offers anglers exceptional fishing opportunities, as well as a range of boating and camping experiences.
Dale Hollow Lake is famous for its excellent smallmouth bass fishing. Anglers from around the country flock to this lake to pursue the prized bronzebacks. The clear waters and rocky structure provide ideal habitats for smallmouth bass, offering thrilling battles and the chance to land trophy-sized fish. Anglers can employ various techniques, including casting with jigs, soft plastics, and crankbaits, to entice these aggressive and hard-fighting fish.
In addition to smallmouth bass, Dale Hollow Lake supports healthy populations of largemouth bass, as well as other popular fish species. Largemouth bass can be found in the lake's coves, brushy areas, and near submerged structures. Crappie fishing is also excellent, with both black and white crappie offering anglers opportunities to fill their coolers. The lake is also home to catfish species, including channel catfish and blue catfish, which can be targeted using a variety of methods, such as bottom fishing with cut bait or live bait.
Boating is a popular activity on Dale Hollow Lake, thanks to its expansive waters and numerous marinas. Anglers and boating enthusiasts can launch their boats from public ramps and explore the lake's scenic coves and channels. Boaters can enjoy leisurely cruises, water sports activities, and the opportunity to take in the breathtaking views of the surrounding hills and forests.
Camping facilities around Dale Hollow Lake provide visitors with the chance to immerse themselves in the natural beauty of the area. Campgrounds offer amenities such as campsites, picnic areas, and restroom facilities. Camping near Dale Hollow Lake allows anglers and outdoor enthusiasts to extend their stay, enabling them to fish early in the morning or late into the evening and fully appreciate the peaceful ambiance of the lake.
Dale Hollow Lake's combination of outstanding fishing, boating opportunities, and camping facilities make it a sought-after destination for outdoor enthusiasts in Tennessee. Whether you're targeting smallmouth bass, enjoying a leisurely boat ride, or camping under the stars, Dale Hollow Lake offers a serene and memorable experience for all who visit.

Primary fish species residing in Dale Hollow Lake
Click images for fishing tips and details about each species.
Dale Hollow Reservoir Amenities
Marina: YES
Boat Rental: YES
Boat Launch Ramp: YES
Campgrounds: YES
RV Hookups: YES
Lodging: YES
Convenience Store: YES
Bait & Tackle: YES
Restaurant: YES
Today's Weather & Forecast
Fishing Boat Rentals
Dale Hollow Marina
Rentals: Pontoon boats
931 243-2211
East Port Marina and Resort
Rentals: Fishing boats and pontoon boats
931 879-7511
Horse Creek Marina and Resort
Rentals: Pontoon boats
931 243-2125
Sunset Marina & Resort
Rentals: Fishing boats, runabouts and pontoons
931 864-3146
Safe Harbor Holly Creek
Rentals: Pontoon boats
931 243-2116
Willow Grove Marina
Rentals: Pontoon boats
931 823-6616
Marinas
Dale Hollow Marina
440 Dale Hollow Boat Dock Rd
Celina, TN 38551
931 243-2211
Horse Creek Marina and Resort
703 Horse Creek Rd
Celina, TN 38551
931 243-2125
Safe Harbor Eagle Cove
5899 Eagles Cove Rd
Byrdstown, TN 38549
931 864-3456
Safe Harbor Holly Creek
7855 Holly Creek Rd
Celina, TN 38551
931 243-2116
Willow Grove Marina
11045 Willow Grove Hwy
Allons, TN 38541
931 823-6616
Public Boat Launch Ramps & Landings
Obey River Recreation Area
This is a three-lane, concrete ramp with a dock and paved parking. It is located in the southeast corner of the lake, just south of the Livingston Highway bridge.
Click here for a Tennessee Fishing License.
Campgrounds & RV Parks Nearby
Dale Hollow Dam Campground - 931 243-3554
Willow Grove Campground - 931 823-4285
Lily Dale Campground - 931 823-4155
Dale Hollow Lake, TN Map - Fishing & Camping Areas
Lake Video
Contact Information
Dale Hollow Lake
Dale Hollow Dam Recreation Area
5101 Campground Rd
Celina, TN 38551
931 243-3136
Fishing lakes in each state.
Dale Hollow Reservoir in Tennessee.
TENNESSEE


Exceptional smallmouth, largemouth and spotted bass fishing in northern TN.
Fishing at Dale Hollow Reservoir, in Tennessee.