Fishing At Lake Drummond
AKA: Drummond Reservoir
What to fish for...
Guide to fishing for black crappie, flier sunfish, yellow perch and chain pickerel at Lake Drummond in Virginia.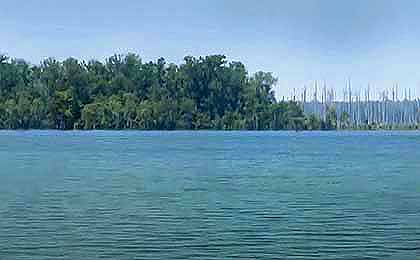 Low pH levels restricts the potential fish species that can survive in Lake Drummond. This 3,100-acre lake in the southeast part of the state is located ten miles southeast of Suffolk. This shell shaped reservoir has eight miles of shoreline and a few ways to access the lake.
Lake Drummond, located in the Great Dismal Swamp of Virginia, offers a unique and secluded fishing experience for anglers seeking tranquility and natural beauty. This freshwater lake, encompassed by pristine wilderness, is home to a variety of fish species, making it a captivating destination for anglers.
One of the popular fish species in Lake Drummond is the largemouth bass. This warm-water predator thrives in the lake's calm waters and abundant vegetation. Anglers can explore the lake's edges, submerged structures, and lily pad fields to target bass. Spring and fall are typically productive seasons for bass fishing, as the fish become more active and are more likely to strike lures and baits.
Lake Drummond also offers opportunities to catch other fish species such as chain pickerel, yellow perch, and catfish. Chain pickerel, known for their aggressive strikes, can be found in the lake's shallower areas, particularly near vegetation and submerged logs. Yellow perch are sought after by anglers during their spring spawning runs, while catfish provide a fun challenge for those using bottom fishing techniques.
Boating on Lake Drummond is a unique experience, as only non-motorized boats are allowed due to its location within the Great Dismal Swamp. Anglers can paddle or row through the lake's calm waters, enjoying the serenity and solitude of the surrounding wilderness. Canoes and kayaks are the ideal choices for exploring this peaceful lake and accessing the various fishing spots.
Camping is not available directly at Lake Drummond, but nearby camping options can be found within the Great Dismal Swamp National Wildlife Refuge. The refuge provides primitive camping opportunities, allowing anglers to fully immerse themselves in the natural surroundings and extend their fishing adventures.
Lake Drummond offers a secluded and captivating fishing experience in the heart of the Great Dismal Swamp. With its diverse fish species, non-motorized boating atmosphere, and nearby camping opportunities, it remains an alluring destination for anglers seeking a peaceful and unspoiled fishing expedition in Virginia's wilderness.
Lake Drummond Fishing Pier and Boat Ramp is located on the west side. The other popular option is via Dismal Swamp Canal which runs into the lake from the east side. Crappie, perch and pickerel are the primary species, plus there is a good population of sunfish. This fishery is remote with no services, but often provides good fishing action.

Primary fish species residing in Lake Drummond
Click images for fishing tips and details about each species.
Drummond Reservoir Amenities
Marina: NO
Boat Rental: NO
Boat Launch Ramp: YES
Campgrounds: NEARBY
RV Hookups: NEARBY
Lodging: NEARBY
Convenience Store: NO
Bait & Tackle: NO
Restaurant: NEARBY
Today's Weather & Forecast
Public Boat Launch Ramps & Landings
Lake Drummond Fishing Pier & Boat Launch Ramp
Located mid lake, west side, off Interior Ditch Road, this is a one-lane, concrete ramp with a dock and gravel parking.
Click here for a Virginia Fishing License.
Campgrounds & RV Parks Nearby
Davis Lakes & Campgrounds - 757 539-1191
Chesapeake Campground - 757 485-0149
Stewart RV Campground - 757 421-8250
Lake Drummond VA Map - Fishing & Camping Areas
Lake Video
Contact Information
Lake Drummond
U.S. Fish & Wildlife Service
757 986-3907
Fishing lakes in each state.
Lake Drummond in VA
VIRGINIA


Fishing for crappie, perch and chain pickerel in southeast VA.
Lake Drummond, in Virginia.