Fishing At Flannagan Reservoir
AKA: John W Flannagan Reservoir
What to fish for...
Guide to fishing for largemouth bass, smallmouth bass, channel catfish, flathead catfish, black crappie, walleye, bluegill, rock bass, yellow perch, hybrid striped bass and muskie at Flannagan Reservoir in Virginia.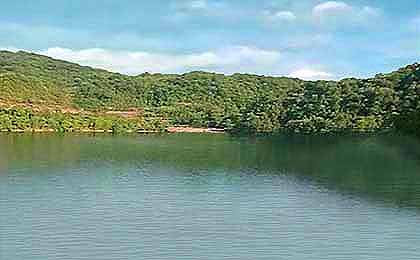 Rock bluffs and hardwood forests line about forty miles of shoreline around Flannagan Reservoir, which is a 1,143-acre lake in western VA, at Clinchco. This flood control reservoir is home to bass, catfish, crappie, walleye, perch, sunfish, wipers and musky.
John W. Flannagan Reservoir, located in southwestern Virginia, is a scenic destination offering a variety of recreational opportunities, including fishing, boating, and camping. This reservoir, nestled among the rolling Appalachian Mountains, provides anglers with a serene and productive fishing experience.
One of the popular fish species in John W. Flannagan Reservoir is the largemouth bass. The lake's structure, which includes submerged timber, points, and coves, provides ideal habitats for bass to thrive. Anglers can target bass using a variety of techniques, such as casting spinnerbaits, crankbaits, or soft plastics. Spring and fall are considered prime seasons for bass fishing, as the fish are more active and tend to move closer to the shorelines.
Crappie is another sought-after species in John W. Flannagan Reservoir. These tasty fish can be found near submerged structures, such as brush piles and fallen trees. Anglers often use small jigs or live minnows to entice crappie into biting. The reservoir also offers opportunities to catch other species, including bluegill, catfish, and walleye.
Boating is a popular activity on John W. Flannagan Reservoir, allowing anglers to explore the lake's various fishing spots. The reservoir provides boat ramps, allowing for easy access to the water. Anglers can enjoy cruising the calm waters or anchoring at strategic locations to cast their lines and enjoy a day of fishing.
Camping facilities are available at John W. Flannagan Dam and Reservoir, offering a chance to immerse oneself in the natural beauty of the surrounding area. The campground provides amenities such as picnic areas, hiking trails, and access to the lake. Camping near the reservoir allows anglers to maximize their time on the water and experience the tranquility of the Appalachian Mountains.
With its picturesque setting, diverse fish populations, and recreational opportunities, John W. Flannagan Reservoir offers anglers a memorable fishing experience in southwestern Virginia. Whether casting for bass, targeting crappie, or simply enjoying the serenity of the reservoir, this destination provides a peaceful escape into nature for fishing and outdoor enthusiasts.
Hybrid stripers and crappie seem to provide the best action here. Two free boat launch ramps and three ramps charging a fee are open to the public. The marina has rental boats and typical marina services. Visitors will find 3 campgrounds at the lake and 2 universally-accessible fishing piers.

Primary fish species residing in Flannagan Reservoir
Click images for fishing tips and details about each species.
Flannagan Reservoir Amenities
Marina: YES
Boat Rental: YES
Boat Launch Ramp: YES
Campgrounds: YES
RV Hookups: YES
Lodging: NEARBY
Convenience Store: YES
Bait & Tackle: YES
Restaurant: NEARBY
Today's Weather & Forecast
Public Boat Launch Ramps & Landings
Flannagan Marina Boat Launch Ramp
Located mid lake, east side, off Marina Cove Road, this is a two-lane, concrete ramp with a dock and paved parking.
Spillway Boat Launch Ramp
Located in the northeast section of the lake, south side, off Spillway Lane, this is a three-lane, concrete ramp with a dock and paved parking.
Marinas
Flannagan Marina
598 Marina Cove
Clintwood, VA 24228
276 835-8408
Click here for a Virginia Fishing License.
Campgrounds & RV Parks Nearby
Pound River Campground - 276 835-9544
Flannagan Reservoir VA Map - Fishing & Camping Areas
Lake Video
Contact Information
Flannagan Reservoir
Flannagan Marina
598 Marina Cove
Clintwood, Virginia 24228
276 835-8408
Fishing lakes in each state.
Flannagan Reservoir in VA
VIRGINIA


Fishing for hybrid striped bass and crappie in western VA.
Flannagan Reservoir, in Virginia.