Fishing At Diascund Creek Reservoir
AKA: Diascund Reservoir Park
What to fish for...
Guide to fishing for largemouth bass, spotted bass, black crappie, bluegill, redear sunfish, yellow perch and chain pickerel at Diascund Creek Reservoir in Virginia.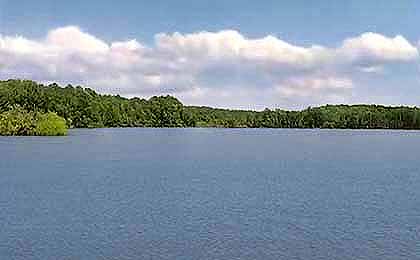 Rowing and electric motors are the only boat power sources allowed on Diascund Creek Reservoir, an 1,100-acre lake in the southeast part of the state, at Lanexa. Boats with outboard motors are allowed on the lake provided they follow lake regulations, call 804 829-6580, Ext. 126 for current details.
Diascund Creek Reservoir, located in Virginia, is a hidden gem for fishing enthusiasts seeking a tranquil and productive angling experience. This reservoir, nestled amidst scenic woodlands and rolling hills, offers a variety of fish species, making it an appealing destination for anglers of all skill levels.
One of the most popular fish species in Diascund Creek Reservoir is the largemouth bass. This warm-water predator thrives in the lake's habitat, and anglers have the opportunity to catch both numbers and trophy-sized bass. The reservoir's structure, including submerged vegetation, fallen trees, and rocky areas, provides ideal hiding spots and feeding grounds for bass. Spring and fall are particularly productive seasons for bass fishing, as the fish are more active and readily bite on a variety of lures and baits.
In addition to largemouth bass, Diascund Creek Reservoir is home to other popular fish species such as crappie, bluegill, and catfish. Crappie can be targeted near submerged structures using jigs or live minnows, while bluegill provide great opportunities for young anglers or those seeking a relaxed fishing experience. Catfish, including channel catfish and bullhead catfish, can be caught using a variety of baits such as nightcrawlers, cut bait, or stink baits.
While boating is allowed on Diascund Creek Reservoir, it is limited to electric motors only, making it a serene and quiet setting for anglers. The peaceful atmosphere allows anglers to fully immerse themselves in the natural surroundings while fishing from a kayak, canoe, or small boat.
Camping facilities are not available directly at Diascund Creek Reservoir, but there are nearby campgrounds and recreational areas where anglers can set up camp and enjoy the natural beauty of the surrounding region. Chickahominy Riverfront Park and Chickahominy Wildlife Management Area provide camping options for those looking to extend their fishing trips and immerse themselves in the outdoors.
Diascund Creek Reservoir offers a serene fishing experience in a picturesque setting. With its diverse fish species, quiet boating atmosphere, and nearby camping options, it remains an attractive destination for anglers seeking a peaceful and rewarding day of fishing in Virginia.
The good news is that the fishing is great, as the lake is somewhat under fished. Anglers and sightseers will be glad to hear there is over twenty miles of shoreline to enjoy. Top fish species here are largemouth bass, crappie, bluegill and chain pickerel. These waters also hold healthy populations of spotted bass, perch and sunfish. A boat launch ramp, a portage area for canoes and kayaks, and accessible areas for fishing from the bank are all open to the public at Diascund Reservoir Park.

Primary fish species residing in Diascund Creek Reservoir
Click images for fishing tips and details about each species.
Diascund Creek Reservoir Amenities
Marina: NO
Boat Rental: NO
Boat Launch Ramp: YES
Campgrounds: NEARBY
RV Hookups: NEARBY
Lodging: NEARBY
Convenience Store: YES
Bait & Tackle: YES
Restaurant: NEARBY
Today's Weather & Forecast
Public Boat Launch Ramps & Landings
Diascund Landing Boat Launch Ramp
Located in the southeast section of the lake, off Diascund Reservoir Road, this is a one-lane, concrete ramp with a dock and gravel parking.
Click here for a Virginia Fishing License.
Campgrounds & RV Parks Nearby
Ed Allen's Campgrounds - 804 966-2582
Williamsburg RV & Camping Resort - 757 566-3021
American Heritage RV Park - 757 566-2133
Diascund Creek Reservoir VA Map - Fishing & Camping Areas
Lake Video
Contact Information
Diascund Creek Reservoir
Diascund Reservoir Park
9545 Diascund Reservoir Rd
Lanexa, VA 23089
757 259-5360
Fishing lakes in each state.
Diascund Creek Reservoir in VA
VIRGINIA


Fishing for bass, crappie, bluegill and pickerel in southeast VA.
Diascund Creek Reservoir, in Virginia.