Guide To Fishing At Occoquan Reservoir
AKA: Occoquan Lake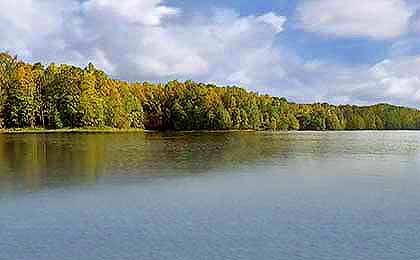 Excellent bass fishing, fat crappie and bluegill draw the most attention from anglers at Occoquan Reservoir, a 2,100-acre reservoir in northeast Virginia, running northwest from Occoquan.
Occoquan Reservoir, located in northern Virginia, offers anglers a rewarding fishing experience in a scenic and tranquil setting. This 2,100-acre reservoir, formed by the Occoquan Dam, is known for its diverse fish populations and natural beauty.
One of the popular fish species in Occoquan Reservoir is the largemouth bass. The lake's structure, including submerged vegetation, fallen trees, and rocky areas, provides excellent habitat for bass to thrive. Anglers can target bass using a variety of techniques such as flipping jigs, casting crankbaits, or working soft plastics. Spring and fall are particularly productive seasons for bass fishing, as the fish are more active and tend to move closer to the shorelines.
Occoquan Reservoir is also home to other popular fish species such as crappie, bluegill, and catfish. Crappie can be found near submerged structures and brush piles, and anglers can use jigs or live minnows to entice them. Bluegill provide enjoyable fishing experiences for anglers of all ages and skill levels, while catfish offer the opportunity to target larger and hard-fighting fish using various baits such as cut bait or stink bait.
Boating is a popular activity on Occoquan Reservoir, allowing anglers to explore different areas of the lake and find the best fishing spots. The reservoir provides boat ramps, allowing for easy access to the water. Anglers can enjoy cruising the calm waters or anchoring at strategic locations to cast their lines and enjoy a day of fishing.
While camping is not available directly at Occoquan Reservoir, there are nearby campgrounds and recreational areas that offer camping facilities. Bull Run Regional Park, for example, provides campsites, picnic areas, and access to the lake. Camping near Occoquan Reservoir allows anglers to fully immerse themselves in the natural beauty of the area and extend their fishing trips.
Occoquan Reservoir offers a picturesque fishing experience in a peaceful setting. With its diverse fish species, boating opportunities, and nearby camping options, it remains a popular destination for anglers seeking a rewarding day of fishing in northern Virginia.
The winding river basin and a multitude of coves create over 40 miles of shoreline to explore and fish. To enhance your visit, there are boat rentals, three marinas, bait, tackle and several boat launch ramps, all available to the public. Wipers, walleye and catfish all deserve consideration here as fishing can run good to excellent for these species at times.

What to fish for...
Fishing for largemouth bass, channel catfish, flathead catfish, black crappie, white crappie, walleye, bluegill, hybrid striped bass and northern pike at Occoquan Reservoir in Virginia.
Primary fish species residing in Occoquan Reservoir
Click images for fishing tips and details about each species.
Occoquan Reservoir Amenities
Marina: YES
Boat Rental: YES
Boat Launch Ramp: YES
Campgrounds: NEARBY
RV Hookups: NEARBY
Lodging: NEARBY
Convenience Store: NEARBY
Bait & Tackle: YES
Restaurant: NEARBY
Today's Weather & Forecast
Fishing Boat Rentals
Lake Ridge Marina
Rentals: Fishing boats, canoes and kayaks
703 494-5288
Public Boat Launch Ramps & Landings
Fountainhead Regional Park Boat Launch Ramp
Located mid lake, on the north side of the lake, off Outlet Road, this is a two-lane, concrete ramp with paved parking.
Lake Ridge Marina Boat Launch Ramp
Located mid lake, on the south side of the lake, off Cotton Mill Drive, this is a two-lane, concrete ramp with docks and paved parking.
LRPRA Boat Launch Ramp
Located in the southeast corner of the lake, off Forrest Hill Road, this is a one-lane, concrete ramp with paved parking.
Marinas
Bull Run Marina
12619 Old Yates Ford Rd
Clifton, VA 20124
703 250-9124
Click here for a Virginia Fishing License.
Campgrounds & RV Parks Nearby
Prince William Forest RV Campground - 703 221-2474
Camp Wilson Campground - 703 352-5900
Burke Lake Park Campground Store - 703 323-6600
Bull Run Campground - 703 631-0550
Occoquan Reservoir VA Map - Fishing & Camping Areas
Lake Video
Contact Information
Occoquan Reservoir
Bull Run Marina
12619 Old Yates Ford Rd
Clifton, VA 20124
703 250-9124
Fishing lakes in each state.
Occoquan Reservoir in VA
VIRGINIA


Fishing for bass, crappie and bluegill in northeast VA.
Occoquan Reservoir, in Virginia.