Guide To Fishing At Lake Hattie Reservoir
AKA: Hattie Lake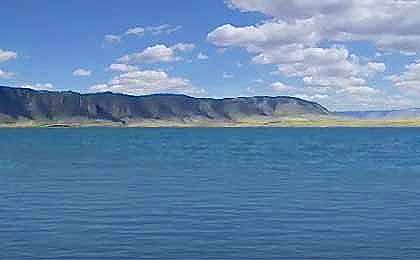 With no amenities other than a boat launch ramp, Lake Hattie Reservoir is a 3,000-acre lake in the southeast part of the state, at Jelm, WY. The lake has more than 8 miles of shoreline, much of which is accessible for fishing from the bank.
Tucked away in the picturesque landscape of southeastern Wyoming, Lake Hattie Reservoir offers a tranquil escape for fishing enthusiasts seeking a memorable angling experience. This serene reservoir, located near Laramie, is known for its excellent fishing opportunities and serene natural beauty. Anglers are drawn to Lake Hattie Reservoir for its abundance of fish species, including rainbow trout, brown trout, kokanee salmon, and perch. The reservoir's pristine waters provide a fertile habitat for these species, promising a rewarding catch for anglers of all skill levels.
Lake Hattie Reservoir is not only a paradise for fishing but also a popular destination for boating enthusiasts. The calm and expansive waters make it an ideal spot for boating adventures. Whether you prefer sailing, motorboating, or leisurely paddling in a kayak or canoe, Lake Hattie Reservoir offers ample space for various water activities. Boaters can explore the tranquil waters, soak in the scenic surroundings, and enjoy the peace and serenity of this hidden gem.
For those seeking a longer stay, Lake Hattie Reservoir offers camping options that allow visitors to immerse themselves in the natural beauty of the area. Campgrounds equipped with amenities such as picnic areas, fire pits, and restrooms provide a comfortable camping experience. Wake up to the gentle sounds of nature, spend the day fishing or boating, and unwind in the evenings while taking in the breathtaking sunsets over the reservoir.
Lake Hattie Reservoir, with its exceptional fishing opportunities, inviting boating experiences, and serene camping sites, offers an idyllic retreat for outdoor enthusiasts in Wyoming. Whether you're an avid angler, a boating enthusiast, or simply seeking solace in nature, Lake Hattie Reservoir provides a captivating escape. Its diverse fish species, calm waters, and scenic landscapes create an unforgettable outdoor experience that will leave visitors with cherished memories of Wyoming's natural splendor.
The lake is open year round, with ice fishing in winter, although the roads may not be plowed. Fishing is good for perch, salmon and four kinds of trout.

What to fish for...
Fishing for rainbow trout, cutthroat trout, brown trout, lake trout, yellow perch and kokanee salmon at Lake Hattie Reservoir in Wyoming.
Primary fish species residing in Lake Hattie Reservoir
Click images for fishing tips and details about each species.
Lake Hattie Reservoir Amenities
Marina: NO
Boat Rental: NO
Boat Launch Ramp: YES
Campgrounds: Primitive
RV Hookups: NO
Lodging: NO
Convenience Store: NO
Bait & Tackle: NO
Restaurant: NEARBY
Today's Weather & Forecast
Public Boat Launch Ramps & Landings
Lake Hattie Boat Launch Ramp
Located in the southeast section of the lake, off County Road 45, at the south end of the dam, this is a two-lane, concrete ramp with a dock and gravel parking.
Click here for a Wyoming Fishing License.
Campgrounds & RV Parks Nearby
There are no developed campsites. Some primitive spots are open to camping.
Lake Hattie Reservoir WY Map - Fishing & Camping Areas
Lake Video
Contact Information
Lake Hattie Reservoir
Lake Hattie Public Access Area
307 745-4046
Fishing lakes in each state.
Lake Hattie Reservoir in WY
WYOMING


Fishing for perch, salmon and four species of trout in southeast WY.
Lake Hattie Reservoir, in Wyoming.