Fishing At Jackson Lake
AKA: Jackson Hole Lake
What to fish for...
Guide to fishing for cutthroat trout, brook trout, brown trout, lake trout, chinook salmon and northern pike at Jackson Lake in Wyoming.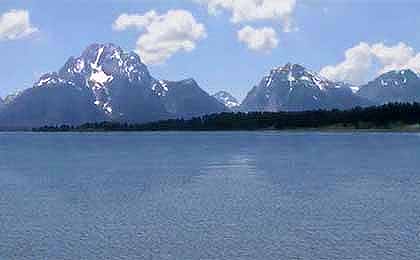 An excellent summer vacation destination, Jackson Lake is a 25,500-acre lake in the northwest corner of the state, in Grand Teton National Park. The fishing is awesome and there is a marina, lodging, camping, RV hookups, convenience stores, bait, tackle and rental boats available at the lake.
The purpose of this page is to deliver an overview of this lake, the fishing options, and area amenities. Our goal is to provide info to first time visitors, as well as beginner and novice anglers. We gathered details from personal experience, numerous trusted websites that each offer select bits of information, and videos of fishing activity on the lake. These websites include the Wyoming Game and Fish Department, marinas at the lake, campgrounds, boat rental agencies and others. By consolidating this information to one page it allows visitors to see the entire picture, all in one place.
Lake Video
Nestled in the heart of Grand Teton National Park, Jackson Lake is a captivating destination for fishing enthusiasts seeking a memorable angling experience. With its pristine waters and breathtaking mountain vistas, this scenic lake offers a serene setting for casting a line. Anglers flock to Jackson Lake primarily for its impressive trout population, including cutthroat, rainbow, and lake trout. The lake's diverse fish species and healthy populations make it a prime destination for both experienced anglers and beginners looking to reel in their prized catches.
Jackson Lake, with its exceptional fishing opportunities, inviting boating experiences, and scenic camping sites, stands as a remarkable destination for outdoor enthusiasts in Wyoming. Whether you're an avid angler, a boating aficionado, or simply seeking solace in nature, Jackson Lake promises an unforgettable retreat. Its diverse fish species, picturesque waters, and majestic mountain backdrops combine to create an unparalleled outdoor experience that will leave visitors with cherished memories of their time spent in this natural wonderland.
Enjoy about 50 miles of shoreline with spectacular views while boating or fishing. Quality trout fishing plus big salmon and pike draw anglers from around the globe to experience this amazing fishery. Ice fishing in winter is popular, but caution is in order. Check with locals for details on safe ice.

Primary fish species residing in Jackson Lake
Click images for fishing tips and details about each species.
Jackson Lake Amenities
Marina: YES
Boat Rental: YES
Boat Launch Ramp: YES
Campgrounds: YES
RV Hookups: YES
Lodging: YES
Convenience Store: YES
Bait & Tackle: YES
Restaurant: YES
Today's Weather & Forecast
Jackson Lake is not just a paradise for fishing; it also caters to boating enthusiasts looking to explore its vast waters. With its expansive surface area, the lake provides ample space for boating activities such as kayaking, canoeing, and motorized boating. Boaters can navigate the calm waters, admire the awe-inspiring mountain scenery, and even take in the iconic views of the Teton Range from the lake's unique vantage point.
Fishing Boat Rentals
Colter Bay Marina
Rentals: Fishing boats, kayaks and canoes
307 543-2811
Signal Mountain Marina
Rentals: Fishing boats, kayaks and pontoon boats
307 543-2831
Public Boat Launch Ramps & Landings
Colter Bay Marina Boat Launch Ramp
Located mid lake, east side, off Colter Bay Marina Road, this is a two-lane, concrete ramp with a dock and paved parking.
Leeks Marina Boat Launch Ramp
Located mid lake, east side, off Leeks Marina Road, this is a two-lane, concrete ramp with a dock and paved parking.
Signal Mountain Marina Boat Launch Ramp
Located in the southeast section of the lake, off Signal Mountain Marina Road, this is a two-lane, concrete ramp with a dock and paved parking.
Marinas
Colter Bay Marina
100 Colter Bay Marina Rd
Moran, WY 83013
307 543-2811
Leek's Marina
Leeks Marina Rd
Grand Teton National Park
Moran, WY 83013
307 543-2494
Click here for a Wyoming Fishing License.
For those looking to extend their stay, Jackson Lake offers camping opportunities that allow visitors to fully immerse themselves in the beauty of the area. Campgrounds equipped with modern amenities, such as picnic areas, fire pits, and restrooms, provide a comfortable camping experience. Whether you choose to pitch a tent or bring an RV, camping at Jackson Lake allows you to wake up to stunning sunrises, enjoy lakeside activities, and witness the tranquil beauty of the surrounding landscapes.
Campgrounds & RV Parks Nearby
Signal Mountain Campground - 307 543-2831
Lizard Creek Campground - 307 543-2831
Headwaters Campground & Lodge - 307 543-2861
Jackson Lake WY Map - Fishing & Camping Areas
Contact Information
Jackson Lake
Colter Bay Marina
Moran, WY 83013
307 543-3100
Fishing lakes in each state.
Jackson Lake in WY
WYOMING


Fishing for trout, salmon and pike in northwest WY.
Jackson Lake, in Wyoming.