Guide To Fishing At Beach Pond
AKA: Beach Pond Boat Launch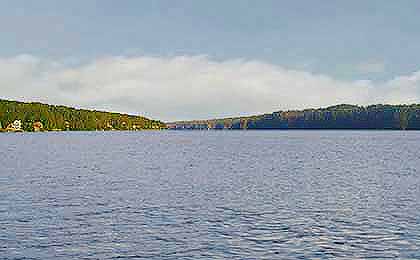 Thick forests line a good portion of the 6 miles of shoreline wrapped around Beach Pond, a 390-acre lake on the eastern CT border with RI, at Voluntown. Two- thirds of the lake is in CT, the other third in RI.
Beach Pond, located on the Connecticut-Rhode Island border, is a picturesque water body known for its excellent fishing opportunities. This 430-acre lake is surrounded by scenic woodlands, offering anglers a tranquil setting for their fishing adventures.
One of the most sought-after fish species in Beach Pond is the smallmouth bass. Anglers flock to this lake to target these feisty and hard-fighting fish. The rocky shorelines, submerged structures, and drop-offs provide ideal habitat for smallmouth bass. Anglers often employ techniques such as casting with soft plastic baits, crankbaits, or jerkbaits to entice the smallmouth bass lurking in the lake's clear waters.
In addition to smallmouth bass, Beach Pond is also home to other popular fish species, including largemouth bass, pickerel, and yellow perch. Largemouth bass can be found near the weed beds and submerged vegetation, while pickerel and yellow perch are commonly found in the shallower areas. Anglers can enjoy targeting these species using a variety of lures, such as spinnerbaits, jigs, or live bait.
Boating is a popular activity on Beach Pond, providing anglers with the opportunity to explore different areas of the lake and reach their desired fishing spots. Anglers can use motorized boats, canoes, kayaks, or paddleboards to navigate the lake's calm waters. It's important to follow boating regulations, including the use of appropriate safety equipment, to ensure a safe and enjoyable experience on the water.
Camping is not directly available at Beach Pond, but there are nearby campgrounds and state parks where anglers can set up their tents or RVs to extend their fishing trips. These camping options offer amenities such as picnic areas, restroom facilities, and access to nature trails, allowing anglers to immerse themselves in the natural beauty of the area.
When planning a fishing trip to Beach Pond, anglers should familiarize themselves with the fishing regulations and licensing requirements specific to the lake. Adhering to these regulations helps protect the fish population and ensures a sustainable fishery for future generations.
Beach Pond in Connecticut offers a peaceful and rewarding fishing experience for anglers of all skill levels. With its diverse fish species, scenic surroundings, and opportunities for boating and camping, it is a destination that promises memorable fishing adventures and a chance to connect with nature.
The Beach Pond Boat Launch is operated by the state of CT and is open to the public with no boat motor restrictions. This is one of three lakes in the state offering Atlantic salmon fishing. Bass, trout and walleye are also popular. Catfish, numerous sunfish and chain pickerel also call these waters home.

What to fish for...
Fishing for largemouth bass, smallmouth bass, white catfish, walleye, rainbow trout, brook trout, brown trout, bluegill, green sunfish, pumpkinseed sunfish, yellow perch, Atlantic salmon and chain pickerel at Beach Pond in Connecticut.
Primary fish species residing in Beach Pond
Click images for fishing tips and details about each species.
Beach Pond Amenities
Marina: NO
Boat Rental: NO
Boat Launch Ramp: YES
Campgrounds: YES
RV Hookups: NO
Lodging: YES
Convenience Store: NEARBY
Bait & Tackle: NO
Restaurant: NEARBY
Today's Weather & Forecast
Public Boat Launch Ramps & Landings
Beach Pond Boat Launch Ramp
Located mid lake, on the north side of the lake, off N Shore Road, this is a one-lane, concrete ramp with paved parking.
Click here for a Connecticut Fishing License.
Campgrounds & RV Parks Nearby
Beach Pond Cabins Campground - 860 334-1128
Nature's Campsites - 860 376-4203
Countryside Campground - 860 376-0029
Beach Pond CT Map - Fishing & Camping Areas
Lake Video
Contact Information
Beach Pond
Beach Pond Boat Launch
Voluntown, CT 06384
877 668-2267
Fishing lakes in each state.
Beach Pond in CT
CONNECTICUT


Fishing for Atlantic salmon, bass, trout and walleye in eastern CT.
Beach Pond, in Connecticut.