Fishing At Highland Lake
AKA: Highland Reservoir
What to fish for...
Guide to fishing for largemouth bass, smallmouth bass, rainbow trout, brook trout, brown trout, bluegill, pumpkinseed sunfish and yellow perch at Highland Lake in Connecticut.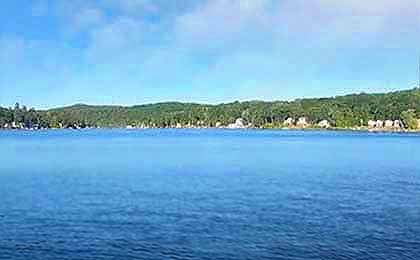 For fishing during the season or ice fishing in winter, Highland Lake is a good choice for bass, trout and sunfish. This 450-acre lake located in the northern part of the state, west of center at Winchester has everything you need for an excellent boating, fishing and camping vacation.
Highland Lake, located in Winchester, Connecticut, is a picturesque water body that offers excellent fishing opportunities for anglers of all skill levels. This 444-acre lake is surrounded by beautiful forests and rolling hills, providing a scenic backdrop for a memorable fishing experience.
One of the most popular fish species found in Highland Lake is the smallmouth bass. Anglers are drawn to this lake for its healthy population of smallmouth bass, known for their strength and acrobatic fights. The rocky shorelines, submerged structures, and deep drop-offs provide ideal habitat for smallmouth bass. Anglers often use techniques such as casting with jigs, crankbaits, or soft plastic baits to entice these prized game fish.
In addition to smallmouth bass, Highland Lake is also home to other popular fish species, including largemouth bass, northern pike, walleye, and various panfish species such as yellow perch and black crappie. Anglers can enjoy targeting these species using a variety of baits and lures, including spinnerbaits, live minnows, or jigs.
Boating is a popular activity on Highland Lake, allowing anglers to explore different areas and find their preferred fishing spots. The lake permits motorized boats, making it convenient for anglers to navigate the waters and cover larger areas. Canoes, kayaks, and paddleboards are also commonly seen on the lake, offering a quieter and more intimate fishing experience.
For those looking to extend their fishing trip, Highland Lake offers nearby camping facilities. Nearby state parks and private campgrounds provide amenities such as tent sites, RV hook-ups, picnic areas, and access to nature trails, allowing anglers to immerse themselves in the natural beauty of the area and enjoy a complete outdoor experience.
When planning a fishing trip to Highland Lake, anglers should familiarize themselves with the fishing regulations specific to the lake, including size and creel limits for different fish species. Adhering to these regulations helps protect the fish population and ensures a sustainable fishery for future generations.
Highland Lake in Connecticut offers a scenic and rewarding fishing experience with its diverse fish species, boating opportunities, and nearby camping options. Whether you're targeting bass, pike, walleye, or panfish, Highland Lake provides a tranquil setting for anglers to enjoy a memorable fishing adventure in the heart of nature.
There are over 7 miles of shoreline and plenty of deep hiding places for the residing fish species to hang out. The lake is popular with bass tournament anglers, trout enthusiasts, and the fishing public seeking bluegill, perch and other sunfish for fun or a fish fry. Highland Lake Boat Launch, The Marina at Highland Lake, rental boats and other amenities are open to the public.

Primary fish species residing in Highland Lake
Click images for fishing tips and details about each species.
Highland Lake Amenities
Marina: YES
Boat Rental: YES
Boat Launch Ramp: YES
Campgrounds: YES
RV Hookups: YES
Lodging: YES
Convenience Store: YES
Bait & Tackle: YES
Restaurant: YES
Today's Weather & Forecast
Fishing Boat Rentals
The Marina at Highland Lake
Rentals: Pontoon boats, canoes and kayaks
860 469-2870
Public Boat Launch Ramps & Landings
Highland Lake Boat Launch Ramp
Located mid lake, on the north side of the lake, off W Lake Street, this is a two-lane, concrete ramp with paved parking.
Marinas
Marina at Highland Lake
173 Lake Street
Winsted, CT 06098
860-469-2870
Click here for a Connecticut Fishing License.
Campgrounds & RV Parks Nearby
White Pines Campsites - 860 379-0124
Austin Hawes Campground - 860 379-0922
Highland Lake CT Map - Fishing & Camping Areas
Lake Video
Contact Information
Highland Lake
The Marina at Highland Lake
173 Lake St
Winsted, CT 06098
860 469-2870
Fishing lakes in each state.
Highland Lake in CT
CONNECTICUT


Fishing for bass and trout in northern CT.
Highland Lake, in Connecticut.