Guide To Fishing At Lake Cushman
AKA: Cushman Lake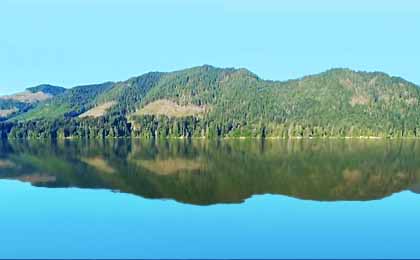 Skokomish Park at Lake Cushman offers three boat ramps and over 100 campsites, some with RV hookups. Lake Cushman is a 4,000-acre lake, 8 miles long with 23 miles of shoreline. It is located in the northwest corner of the state, 5 miles northwest of Hoodsport.
Lake Cushman in Washington is a picturesque destination that offers a delightful fishing experience for anglers of all ages. The lake is known for its diverse fish population, making it a popular spot for both seasoned anglers and beginners. Popular fish species found in Lake Cushman include rainbow trout, cutthroat trout, kokanee salmon, smallmouth bass, and yellow perch. These species provide a variety of fishing opportunities, allowing anglers to test their skills and enjoy the thrill of reeling in a prized catch.
Cutthroat trout and kokanee salmon are plentiful here and often come in big sizes. Kokanee and cutthroat are more easily caught while fishing from a boat, however there is also access for fishing from the bank. Boat rentals are available, but there is no marina. Lodging, stores and food are close by the lake.
Boating is a favored activity at Lake Cushman, offering visitors a chance to explore the tranquil waters and access prime fishing locations. The lake permits both motorized and non-motorized boats, providing anglers with versatility in their boating choices. From speedboats to canoes and kayaks, boaters can navigate the calm waters, uncover hidden coves, and find the perfect spots to cast their lines. The serene atmosphere and breathtaking mountain views enhance the boating experience at Lake Cushman.
Camping options near Lake Cushman allow visitors to extend their outdoor adventure and immerse themselves in the natural beauty of the area. Campgrounds in the vicinity offer a range of amenities, including campsites, picnic areas, and facilities for a comfortable camping experience. Camping near Lake Cushman provides anglers with the opportunity to fully appreciate the tranquility of nature, wake up to stunning views, and have convenient access to fishing opportunities throughout their camping trip.
Lake Cushman in Washington is a haven for fishing, boating, and camping enthusiasts. With its diverse fish species, excellent boating opportunities, and nearby camping options, the lake provides a well-rounded outdoor experience. Whether you're angling for trout or bass, cruising the calm waters by boat, or spending a night under the starry sky at a lakeside campground, Lake Cushman offers abundant recreational opportunities for visitors to relax, appreciate the natural beauty, and create lasting memories.

What to fish for...
Fishing for cutthroat trout and kokanee salmon at Lake Cushman in Washington.
Primary fish species residing in Lake Cushman
Click images for fishing tips and details about each species.
Lake Cushman Amenities
Marina: NO
Boat Rental: YES
Boat Launch Ramp: YES
Campgrounds: YES
RV Hookups: YES
Lodging: YES
Convenience Store: YES
Bait & Tackle: NO
Restaurant: YES
Today's Weather & Forecast
Fishing Boat Rentals
Skokomish Park at Lake Cushman
Rentals: Kayaks
360 877-5760
Public Boat Launch Ramps & Landings
Fire Lane Boat Launch Ramp
Located mid lake, east side, off Fire Lane, this is a two-lane, concrete ramp with a dock and paved parking.
Lake Cushman Boat Launch Ramp
Located in the southwest section of the lake, off Deer Lane, there are two, one-lane, concrete ramps, one with a dock, both with gravel parking.
Skokomish Park Boat Launch Ramp
Located mid lake, east side, off N Lake Cushman Road, this is a three-lane, concrete ramp with paved parking.
Click here for a Washington fishing license.
Campgrounds & RV Parks Nearby
Skokomish Park at Lake Cushman Campground - 360 877-5760
Big Creek Campground - 360 956-2402
Staircase Campground - 360 877-5569
Dow Creek RV Resort - 360 877-5022
Lake Cushman WA Map - Fishing & Camping Areas
Lake Video
Contact Information
Lake Cushman
Skokomish Park at Lake Cushman
7211 N Lake Cushman Rd
Hoodsport, WA 98548
360 877-5760
Fishing lakes in each state.
Lake Cushman in WA
WASHINGTON


Fishing for cutthroat trout and kokanee salmon in northwest WA.
Lake Cushman, in Washington.