Arizona Fishing Article
Arizona's Top Walleye
I've never met a fisherman who was superstitious. But if you were to ever run into one, they have some interesting rituals. Some have normal quirks like a lucky hat, shirt, or lure. I've seen them toss coins into the water before the start of a tournament. Others might wear the same underwear if they are doing well in a three-day tournament. Or some might do silly things like put a penny in their shoe and many fishermen carry a lucky horseshoe in their boat. Do any of these shenanigans really work? I don't know but I am guilty of the last two mentioned.
Walleye fishing has many different techniques. Some of the most common I use are flatline trolling, long-lining, vertical jigging, Lindy no-snag slip sinkers, walking sinkers, mo-jo rigs (some call it a mini Carolina rig or split-shotting), drop-shotting, cranking shad raps, cranking rapalas, and suspending jerkbaits.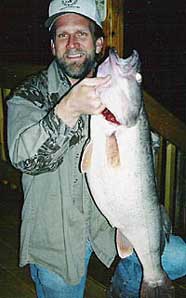 On November 16th, 2002, the weather had brought a couple of recent cold fronts. Show Low lake has always had a reputation for producing huge EYES. I decided to try vertical jigging after locating a concentration of fish in sixteen to twenty feet of water on my fish finder. They were located near the channel break, tight to structure, because of the 43-degree water temperature. I was using a seven-foot medium action casting rod with a light tip, along with a 6.3:1 gear ratio high-speed baitcast reel spooled with Trilene twelve-pound XL line. I used a black plastic craw, Texas rigged on a 3/0 XGAP X-point hook. The jig was stationary when I felt a slight tick. After a couple of heart stopping runs, the walleye was eventually boated and I finally got a look at her. I then got out my digital scale which was bouncing between 13.5 and 14 pounds. The weight ended up being 13 pounds, 3.25 ounces after making the drive to a certified scale. But unfortunately, for me, it missed the state record by half a pound. You can view the 13 pound plus walleye, which was donated to Arizona State Parks, located at 1500 N. Fool Hollow Lake Road, Show Low, Arizona.
The 13-pound plus fish would have been released had it not been for the Arizona Game & Fish Department's state regulation against transporting live fish. I always catch and release the majority of my fish.
I was a little disappointed but I believed that there was a larger fish in the same area so I decided to try again.
On the evening of November 18th, 2002, upon arriving at the lake, I decided to start fishing where I had some luck two nights ago. After keeping a close eye on my electronics I was approaching the exact location. My graph began picking up a few large fish, holding tight to structure. I didn't get a bite with the lures that worked the previous nights. After rummaging through my tackle box, I decided to rig a black plastic leech exactly like the black craw. After jigging in the same area for a while, something just didn't feel right while the jig was on the fall so I decided to set the hook. I put a lot of pressure on the fish after the hook set, to quickly get it away from the structure.
The humongous walleye did plenty of head shaking and made a couple of deep runs while I held my breath. I cautiously positioned the boat towards deeper water, while wrestling the huge eye closer to the boat. After netting the walleye, I had no doubt that this fish was the new state record. I quickly left Show Low Lake to get the fish certified. The new Arizona State Record walleye, officially recognized by the Arizona Game and Fish Department is 16 pounds, 1.76 ounces with a length of 31 inches and a girth of 21 inches. She won top honors as the largest walleye in Arizona's history. See persistence apparently does pay off. And this walleye still holds the top position to this day. For additional multi species trophy fishing information or questions, drop by my website at: http://www.munckstrophyfishing.com .
The next time you decide to venture out on your favorite walleye trophy lake, don't forget to pack your lucky horseshoe in the boat and put the uncomfortable penny in your shoe. Who's to say, maybe some of these superstitions really do work.
ARIZONA



Article about fishing for big walleye in Arizona.