Fishing At Rainbow Flowage
AKA: Rainbow Reservoir
What to fish for...
Guide to fishing for largemouth bass, smallmouth bass, black crappie, walleye, bluegill, green sunfish, pumpkinseed sunfish, rock bass, yellow perch, musky and northern pike at Rainbow Flowage in Wisconsin.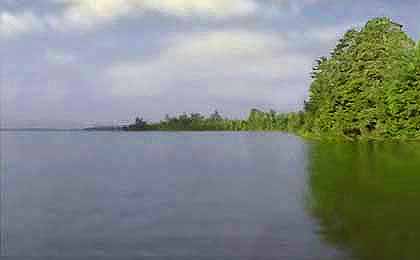 Created by a dam on the Wisconsin River, Rainbow Flowage is a 3,100-acre lake in the northeast part of the state, at Germain. It has miles and miles of shoreline to explore with a variety of cover for fish species to call home.
The purpose of this page is to deliver an overview of this lake, the fishing options, and area amenities. Our goal is to provide info to first time visitors, as well as beginner and novice anglers. We gathered details from personal experience, numerous trusted websites that each offer select bits of information, and videos of fishing activity on the lake. These websites include the Wisconsin Department of Natural Resources, marinas at the lake, campgrounds, boat rental agencies and others. By consolidating this information to one page it allows visitors to see the entire picture, all in one place.
Lake Video
Rainbow Flowage is located in northern Wisconsin, specifically in Oneida County. It is a picturesque reservoir known for its excellent fishing opportunities. Anglers are drawn to Rainbow Flowage for its abundance of popular fish species and the serene natural surroundings.
Both smallmouth and largemouth bass are highly sought-after species in Rainbow Flowage. The lake's structure, including submerged vegetation, rock formations, and fallen trees, provide ideal habitats for these bass. Anglers can use various techniques such as casting with artificial baits or live bait rigs to target these bass species.
Muskie is another popular fish species in Rainbow Flowage. This large and elusive predator attracts anglers seeking an exciting challenge. Casting with large bucktails, jerkbaits, or topwater lures in the weedy areas or near submerged structures can increase the chances of hooking a muskie.
Walleye is another prized species in Rainbow Flowage and known for its delicious flavor. Anglers can target walleye using trolling techniques, casting with jigs or crankbaits, or vertical jigging near drop-offs, points, or underwater structures. Early morning and evening hours are often the most productive times to catch walleye.
Black crappie, northern pike, yellow perch, and bluegill are also abundant in Rainbow Flowage. These panfish species provide great fishing opportunities for anglers of all skill levels. Fishing near submerged structures, weed beds, or the lake's edges can lead to successful catches of these popular panfish species.
Rainbow Flowage in Oneida County, Wisconsin, offers a diverse range of popular fish species, including smallmouth and largemouth bass, muskie, walleye, black crappie, northern pike, yellow perch, and bluegill. With its scenic beauty, abundant fish population, and opportunities for boating and camping, Rainbow Flowage is a favored destination for anglers and outdoor enthusiasts seeking an immersive fishing experience in northern Wisconsin.
Rainbow Reservoir Park has a boat launch ramp and area for fishing from the bank.

Primary fish species residing in Rainbow Flowage
Click images for fishing tips and details about each species.
Rainbow Flowage Amenities
Marina: NO
Boat Rental: NO
Boat Launch Ramp: YES
Campgrounds: YES
RV Hookups: YES
Lodging: YES
Convenience Store: YES
Bait & Tackle: YES
Restaurant: YES
Today's Weather & Forecast
In addition to the excellent fishing opportunities, Rainbow Flowage offers a variety of recreational activities. Boating is a popular pastime, allowing anglers to explore the lake's vast waters and reach their favorite fishing spots.
Public Boat Launch Ramps & Landings
Rainbow Flowage Boat Launch Ramp
Located in the southwest corner of the lake, off County Road D, this is a two-lane, concrete ramp with a dock and gravel parking.
Click here for a Wisconsin Fishing License.
The lake also provides camping facilities, making it an ideal destination for those who wish to immerse themselves in nature and enjoy a complete outdoor experience.
Campgrounds & RV Parks Nearby
Summer Ridge RV Park - 715 277-2594
Rainbow Flowage WI Map - Fishing & Camping Areas
Contact Information
Rainbow Flowage
Rainbow Reservoir Park
Lake Tomahawk, WI 54539
715 848-2976
Fishing lakes in each state.
Rainbow Flowage in WI
WISCONSIN


Fishing for crappie, bluegill, perch and musky in northeast WI.
Rainbow Flowage, in Wisconsin.