Fishing At Puckaway Lake
AKA: Lake Puckaway
What to fish for...
Guide to fishing for largemouth bass, channel catfish, black crappie, white crappie, walleye, bluegill, green sunfish, pumpkinseed sunfish, rock bass, white bass, yellow perch and northern pike at Puckaway Lake in Wisconsin.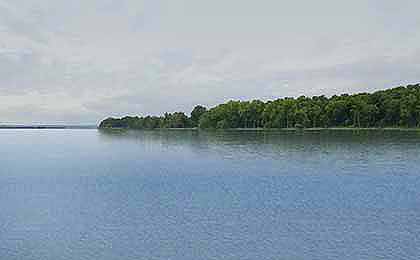 Plenty of lodging and campgrounds around Lake Puckaway make this 5,000-acre lake, in the south-central part of the state, a desirable vacation or fishing trip destination. Anglers will appreciate over 25 miles of shoreline where bass, perch, sunfish, pike and crappie tend to hang out during the fishing season.
Puckaway Lake is situated in central Wisconsin, located primarily in Green Lake County. It is a scenic and serene lake that offers a variety of fishing opportunities for anglers. The lake is known for its diverse fish population, making it a popular destination for fishing enthusiasts.
Largemouth bass are one of the most sought-after fish species in Puckaway Lake. The lake provides ample habitat for bass, including submerged structures, weed beds, and shoreline cover. Anglers can use a variety of techniques such as casting with plastic worms, crankbaits, or topwater lures to entice largemouth bass.
Walleye is another popular fish species that attracts anglers to Puckaway Lake. These prized gamefish can be found near drop-offs, points, and rocky structures. Trolling with crankbaits, casting with jigs or live bait rigs, or vertical jigging are effective methods for targeting walleye in the lake.
Channel catfish are abundant in Puckaway Lake, offering excellent opportunities for catfish enthusiasts. Anglers can target these bottom-dwelling fish using various baits such as cut bait, stink bait, or live bait rigs. Fishing near the lake's deeper areas, along the channels, or near submerged structures can increase the chances of hooking a channel catfish.
White bass are also prevalent in Puckaway Lake and provide exciting fishing action. These fish often gather in schools and can be targeted using casting techniques with spinners, jigs, or crankbaits. They are known for their spirited fights and make for a thrilling angling experience.
Both black crappie and white crappie can be found in Puckaway Lake, offering anglers the opportunity to catch these popular panfish species. These fish are often found near submerged structures, such as brush piles or fallen trees. Jigging with small jigs or minnows, or using live bait rigs, can be effective in enticing crappie to bite.
Northern pike, yellow perch, and bluegill are other common fish species that can be caught in Puckaway Lake. Anglers can target northern pike by casting with spinners or spoons near weed beds or areas with submerged vegetation. Yellow perch and bluegill are often found near weed lines or submerged structures, and can be caught using small jigs or live bait rigs.
In addition to the excellent fishing opportunities, Puckaway Lake provides a great environment for boating and camping. Anglers can enjoy boating on the lake, exploring its scenic beauty, and finding their favorite fishing spots. There are also camping facilities nearby, allowing anglers and outdoor enthusiasts to extend their stay and fully immerse themselves in the natural surroundings.
Puckaway Lake in Green Lake County, Wisconsin, offers a range of popular fish species, including largemouth bass, walleye, channel catfish, white bass, black crappie, white crappie, northern pike, yellow perch, and bluegill. With its diverse fish population, picturesque scenery, and opportunities for boating and camping, Puckaway Lake is a favored destination for anglers and outdoor enthusiasts alike.
There are no rental boats, but visitors can use the public boat ramp to launch everything from canoes and kayaks to pontoons and power boats.

Primary fish species residing in Puckaway Lake
Click images for fishing tips and details about each species.
Puckaway Lake Amenities
Marina: NO
Boat Rental: NO
Boat Launch Ramp: YES
Campgrounds: YES
RV Hookups: YES
Lodging: YES
Convenience Store: NEARBY
Bait & Tackle: YES
Restaurant: YES
Today's Weather & Forecast
Public Boat Launch Ramps & Landings
Marquette County Public Boat Launch Ramp
Located in the northwest section of the lake, north side, off Toepper Drive, this is a one-lane, concrete ramp with a dock and paved parking.
Click here for a Wisconsin Fishing License.
Campgrounds & RV Parks Nearby
River's End Resort Campground - 414 810-8815
Sunset Bay Resort Marquette Campground - 608 617-7985
Lakeside Campground - 920 295-3000
Lake Arrowhead Campground - 920 295-3000
Puckaway Lake WI Map - Fishing & Camping Areas
Lake Video
Contact Information
Puckaway Lake
River's End Resort
W7004 Puckaway Rd
Markesan, WI 53946
414 810-8815
Fishing lakes in each state.
Puckaway Lake in WI
WISCONSIN


Fishing for northern pike, largemouth bass and walleye in south-central WI.
Puckaway Lake, in Wisconsin.