Fishing At Long Lake
AKA: Nobleton Lake
What to fish for...
Guide to fishing for largemouth bass, smallmouth bass, black crappie, white crappie, walleye, bluegill, green sunfish, pumpkinseed sunfish, rock bass, yellow perch and northern pike at Long Lake in Wisconsin.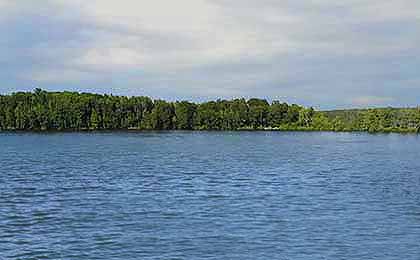 In the state there are many smaller lakes sharing the name "Long Lake". But this Long Lake, at 3,300-acres, is the largest of them all. It is located in the northwest part of the state, at Madge.
Long Lake is situated in the northern part of Wisconsin, offering a serene fishing experience for anglers. This picturesque lake is known for its diverse fish population and the variety of angling opportunities it provides.
Walleye fishing in Long Lake is a very popular pursuit. Anglers often find success by trolling with crawler harnesses, jigging with minnows or artificial jigs, or drifting with live bait rigs. Key areas to target walleye include rocky structures, points, and areas with depth changes. Early morning and evening are often prime times to catch these elusive fish.
One of the popular fish species in Long Lake is largemouth bass. Anglers can target largemouth bass by casting plastic worms, crankbaits, or topwater lures near weed beds, submerged structures, or around fallen trees. These feisty fish provide exciting action and can be found throughout the lake.
Smallmouth bass also thrive in Long Lake and are highly sought after by anglers. They are known for their aggressive strikes and fighting spirit. Anglers often target smallmouth bass by casting jigs, soft plastics, or crankbaits along rocky shorelines, points, or drop-offs. These bronzebacks are known to provide thrilling battles and are prized catches in the lake.
Both black crappie and white crappie can be found in Long Lake. Anglers can target crappie by using small jigs, minnows, or live bait under bobbers near submerged structures, brush piles, or docks. Crappie provide an excellent opportunity for anglers to fill their creel with delicious fillets.
Northern pike, yellow perch, and bluegill are also popular species in Long Lake. Anglers targeting northern pike often use large spoons, spinners, or jerkbaits near weed edges, points, or areas with vegetation. Yellow perch and bluegill can be caught using small jigs, worms, or live bait near weed beds, drop-offs, or submerged structures.
Long Lake is not only a great fishing destination but also offers opportunities for boating and camping. Anglers and boaters can explore the lake's scenic beauty and enjoy various water-based activities. Camping facilities around the lake provide a convenient option for those looking to extend their stay and fully immerse themselves in the natural surroundings.
Long Lake in Wisconsin's northern region provides an excellent fishing experience for anglers targeting largemouth bass, smallmouth bass, walleye, black crappie, white crappie, northern pike, yellow perch, and bluegill. With its diverse fishery, picturesque setting, and additional recreational amenities like boating and camping, Long Lake offers a memorable outdoor experience for anglers and nature enthusiasts alike.
Considered by many to be the Walleye Capital of Wisconsin, it is a great choice for chasing a trophy walleye or catching a tasty dinner. Explore about 25 miles of shoreline to enjoy water sports, boating and fishing. In addition to walleye, this fishery offers good fishing for bass, perch, pike, sunfish and crappie. Boat ramps, bait shops, rental boats and marinas stand ready to serve the public.

Primary fish species residing in Long Lake
Click images for fishing tips and details about each species.
Long Lake Amenities
Marina: YES
Boat Rental: YES
Boat Launch Ramp: YES
Campgrounds: YES
RV Hookups: YES
Lodging: YES
Convenience Store: YES
Bait & Tackle: YES
Restaurant: YES
Today's Weather & Forecast
Fishing Boat Rentals
Bees N Trees Marine
Rentals: Pontoon boats
715 651-6600
Dave's Outboard
Rentals: Pontoon boats
715 354-3430
Public Boat Launch Ramps & Landings
Boat Landing Road Launch Ramp
Located mid lake, west side, off Boat Landing Road, this is a two-lane, concrete ramp with a dock and gravel parking.
Click here for a Wisconsin Fishing License.
Campgrounds & RV Parks Nearby
Rolling Thunder RV Park & Campground - 715 635-6565
Paiute Campsite Campground - 612 261-2460
Sac Campsite Campground - 715 354-3841
Mohawk Campsite Campground - 715 354-3841
Oneida Campsite Campground - 715 354-3841
Long Lake WI Map - Fishing & Camping Areas
Lake Video
Contact Information
Long Lake
Washburn County - Long Lake
122 N River Street
Spooner, WI 54801
800 367-3306
Fishing lakes in each state.
Long Lake in WI
WISCONSIN


Fishing for walleye in northwest WI.
Long Lake, in Wisconsin.