Guide To Fishing At Trout Lake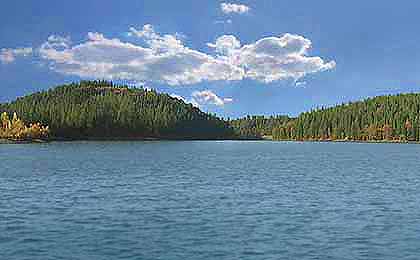 One of the deeper, small lakes in the area, Trout Lake is a 3,900-acre lake offering more than just trout fishing. Bass, walleye, sunfish, perch, bowfin, northern pike and muskie also inhabit this fertile fishery. in north-central Wisconsin, 10 miles north of Woodruff.
Trout Lake is located in the northern part of Wisconsin, specifically in Vilas County. It is a beautiful and pristine lake known for its clear waters and excellent fishing opportunities. Anglers flock to Trout Lake to pursue its diverse range of fish species and enjoy the scenic surroundings.
Lake trout is the prized species that attracts many anglers to Trout Lake. These deep-water dwellers require specialized techniques such as downrigging or vertical jigging to target them effectively. Anglers often use spoons, crankbaits, or live bait such as smelt or suckers to entice lake trout. Catching a trophy-sized lake trout is a thrilling experience and a testament to the angler's skills.
Smallmouth bass and largemouth bass are also abundant in Trout Lake. Anglers can target smallmouth bass along rocky shorelines, drop-offs, or submerged structures using techniques such as casting with crankbaits, jigs, or soft plastics. Largemouth bass, on the other hand, prefer areas with vegetation, fallen trees, or lily pads. Anglers often use topwater lures, spinnerbaits, or plastic worms to entice largemouth bass.
Muskie is another popular species in Trout Lake. The lake provides suitable habitat for muskie, with its deep waters and abundant forage. Anglers target muskie using large bucktails, jerkbaits, or live bait such as suckers or large shiners. The chance of hooking into a trophy muskie makes Trout Lake an exciting destination for dedicated muskie anglers.
Walleye, northern pike, yellow perch, and bluegill can also be found in Trout Lake. These panfish species provide enjoyable angling opportunities for anglers of all skill levels. Walleye are often targeted near submerged structures or drop-offs using techniques such as trolling with crankbaits or spinner rigs, jigging with minnows or leeches, or casting with jigs and plastics. Northern pike, yellow perch, and bluegill can be caught using various bait presentations or small jigs.
Trout Lake not only offers excellent fishing but also provides opportunities for boating and camping. Anglers and outdoor enthusiasts can explore the lake's crystal-clear waters, enjoy various water sports activities, and relax in the scenic camping areas surrounding the lake. With its diverse fishery, beautiful surroundings, and recreational opportunities, Trout Lake is a cherished destination for anglers and nature lovers alike in Wisconsin.
The lake has 18 miles of shoreline, which is best fished form a boat. However some nice fish are caught while fishing from the bank. Public access is available at a half dozen areas around the lake including boat landings, nature preserves, the campgrounds and along some of the roads circling the lake. No rental boats are available at the lake so bring a canoe, kayak or fishing boat to enjoy the good fishing here.

What to fish for...
Fishing for largemouth bass, smallmouth bass, walleye, bluegill, green sunfish, pumpkinseed sunfish, rock bass, yellow perch, lake trout, bowfin, musky and northern pike at Trout Lake in Wisconsin.
Primary fish species residing in Trout Lake
Click images for fishing tips and details about each species.
Trout Lake Amenities
Marina: NO
Boat Rental: NO
Boat Launch Ramp: YES
Campgrounds: YES
RV Hookups: YES
Lodging: YES
Convenience Store: NO
Bait & Tackle: NO
Restaurant: NEARBY
Today's Weather & Forecast
Fishing Boat Rentals
Cabins on Trout Lake
Rentals: Fishing boats, kayaks and pontoon boats
715 614-3993
Public Boat Launch Ramps & Landings
Trout Lake North Boat Launch Ramp
Located mid lake, northeast side, off County Road M, this is a one-lane, concrete ramp with a dock and gravel parking.
Trout Lake South Boat Launch Ramp
Located mid lake, southeast side, off Lake Shore Drive, this is a one-lane, concrete ramp with a dock and paved parking.
Click here for a Wisconsin Fishing License.
Campgrounds & RV Parks Nearby
Trout Lake Forestry Headquarters Campground - 715 385-2727
North Trout Lake Campground - 715-542-3923
Trout Lake WI Map - Fishing & Camping Areas
Lake Video
Contact Information
Trout Lake
Trout Lake Forestry Headquarters
4125 Forest Headquarters Rd
Boulder Junction, WI 54512
715 385-2727
Fishing lakes in each state.
Trout Lake in Wisconsin.
WISCONSIN


Information about fishing lakes in WI
Trout, bass, walleye, sunfish, perch, bowfin, northern pike and muskie inhabit Trout Lake in north-central Wisconsin.
Fishing on Trout Lake.