Fishing At Shell Lake
AKA: Shell Lake Municipal Campground
What to fish for...
Guide to fishing for largemouth bass, smallmouth bass, black crappie, walleye, bluegill, green sunfish, pumpkinseed sunfish, rock bass, yellow perch, musky and northern pike at Shell Lake in Wisconsin.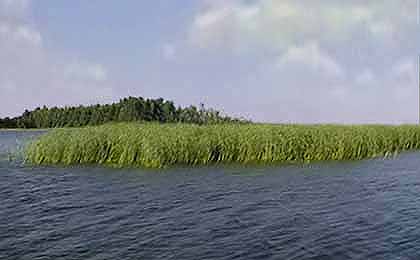 Surrounded by many smaller lakes, Shell Lake is a 2,600-acre lake in the northwest part of the state. The shell-shaped border of this productive fishery creates nearly 10 miles of shoreline for bass, crappie, sunfish and pike to roam.
Shell Lake is located in Washburn County, in northwestern Wisconsin. It is a picturesque lake known for its clear waters and excellent fishing opportunities. Anglers are drawn to Shell Lake for its diverse fishery and the chance to catch a variety of popular fish species.
Smallmouth bass is one of the prized species in Shell Lake. The lake's rocky shorelines, submerged structures, and deep pockets provide ideal habitat for smallmouth bass. Anglers can target smallmouth bass using techniques such as casting with crankbaits, jigs, or soft plastic baits around rocky structures or drop-offs.
Largemouth bass can also be found in Shell Lake, particularly in the shallower areas with vegetation and submerged timber. Anglers can use topwater lures, spinnerbaits, or plastic worms to entice largemouth bass from their hiding spots.
Muskie, known as the "fish of a thousand casts," is another sought-after species in Shell Lake. The lake's clear waters and abundance of baitfish make it an ideal habitat for muskie. Anglers often use large bucktails, jerkbaits, or live bait such as suckers or large shiners to target these powerful and elusive predators.
Walleye is a popular game fish in Shell Lake. Anglers can find walleye near drop-offs, points, or other underwater structures. Trolling with crankbaits or spinner rigs, jigging with minnows or leeches, or casting with stickbaits or jigs are effective techniques for catching walleye.
Black crappie, northern pike, yellow perch, and bluegill are also abundant in Shell Lake. These panfish species provide excellent angling opportunities, particularly for families and novice anglers. Fishing near submerged vegetation, docks, or using small jigs or live bait can lead to success in catching these popular panfish species.
Shell Lake offers more than just great fishing. Boating is a popular activity on the lake, with public boat launches available for easy access. The lake's scenic beauty and serene surroundings make it a great spot for camping, allowing visitors to enjoy extended stays and immerse themselves in nature.
In summary, Shell Lake in Washburn County, Wisconsin, provides excellent fishing opportunities for a variety of popular fish species such as smallmouth bass, largemouth bass, muskie, walleye, black crappie, northern pike, yellow perch, and bluegill. With its clear waters, diverse habitat, and recreational amenities like boating and camping, Shell Lake is a fantastic destination for anglers and outdoor enthusiasts alike.
Shell Lake Municipal Campground has a boat launch ramp, parking, swimming beach, docks and access for fishing from the bank. While there are no rental boats, everything else you need for boating, fishing and camping is at, or close to, the lake.

Primary fish species residing in Shell Lake
Shell Lake Amenities
Marina: NO
Boat Rental: NO
Boat Launch Ramp: YES
Campgrounds: YES
RV Hookups: YES
Lodging: YES
Convenience Store: YES
Bait & Tackle: YES
Restaurant: YES
Today's Weather & Forecast
Fishing Boat Rentals
Lakeside Watercraft Rental
Rentals: Pontoon boats, canoes and kayaks
715 577-0964
Public Boat Launch Ramps & Landings
Shell Lake Municipal Campground Boat Ramp
Located mid lake, west side, off W Lake Drive, this is a two-lane, concrete ramp with a dock and paved parking.
Click here for a Wisconsin Fishing License.
Campgrounds & RV Parks Nearby
Shell Lake Municipal Campground - 715 468-7846
Shell Lake ATV Campground - 715 468-7846
Red Barn Campground - 715 468-2575
Shell Lake WI Map - Fishing & Camping Areas
Lake Video
Contact Information
Shell Lake
Shell Lake Municipal Campground
114 W Lake Dr
Shell Lake, WI 54871
715 468-7846
Fishing lakes in each state.
Shell Lake in WI
WISCONSIN


Fishing for usky, pike, bass and perch in northwest WI.
Shell Lake, in Wisconsin.