Fishing At Lac Vieux Desert
AKA: Lac Vieux Desert Lake
What to fish for...
Guide to fishing for largemouth bass, smallmouth bass, black crappie, walleye, bluegill, pumpkinseed sunfish, rock bass, yellow perch, musky and northern pike at Lac Vieux Desert in Wisconsin.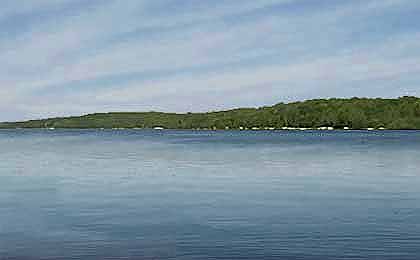 A shining star among the multitude of lakes in the Land O Lakes area, Lac Vieux Desert is a 4,300-acre lake on the northeastern border of the state. With healthy populations of many fish species, and 19 miles of shoreline, anglers are drawn here to fish for walleye, bass, trophy musky, perch, pike, crappie and sunfish.
Lac Vieux Desert is located in the northern part of Wisconsin, straddling the border with Michigan's Upper Peninsula. This expansive lake offers a fantastic fishing experience, attracting anglers from both states.
One of the popular fish species in Lac Vieux Desert is largemouth bass. Anglers target them using a variety of techniques, including casting soft plastics, working topwater lures, or using spinnerbaits. The lake's structure, including weed beds, submerged timber, and rocky areas, provides ideal habitat for largemouth bass.
Smallmouth bass are also abundant in Lac Vieux Desert and are highly sought after by anglers. They are known for their acrobatic fights and aggressive nature. Anglers often target them by casting jigs, crankbaits, or using live bait like leeches or minnows near rocky structures, drop-offs, or points.
Muskie, the apex predator of freshwater, thrives in Lac Vieux Desert. Anglers looking for a thrilling challenge target muskie using large baits such as bucktails, jerkbaits, or topwater lures. This species requires patience, persistence, and dedication due to their elusive nature and their tendency to follow rather than strike.
Walleye is another popular species in Lac Vieux Desert. Anglers pursue walleye using techniques such as trolling with crankbaits or worm harnesses, jigging with live bait or artificial jigs, or drifting with live bait rigs. Dawn and dusk are often the best times to target walleye, especially near transition areas between shallow and deep water.
Black crappie, northern pike, yellow perch, and bluegill are also prominent species in Lac Vieux Desert. Anglers can target black crappie using small jigs, live bait, or bobber rigs near submerged structures or brush piles. Northern pike can be caught using larger lures like spoons, spinners, or swimbaits. Yellow perch and bluegill are often targeted using small jigs, worms, or live bait near weed beds or drop-offs.
Lac Vieux Desert offers not only exceptional fishing opportunities but also ample boating and camping options. Anglers and boaters can explore the lake's expansive waters and enjoy the scenic beauty of the surrounding area. Camping facilities near the lake provide an opportunity to extend your stay and fully immerse yourself in the natural beauty of the region.
Lac Vieux Desert, situated on the border of Wisconsin and Michigan, offers excellent fishing opportunities for largemouth bass, smallmouth bass, walleye, muskie, black crappie, northern pike, yellow perch, and bluegill. With its diverse fishery, expansive waters, and camping amenities, the lake provides anglers and outdoor enthusiasts with a memorable experience in both fishing and recreational activities.
This is an ideal destination for fishing from a boat, as areas for fishing from the bank is limited. Boat launch ramps, rental boats, lodging and camping is all available at the lake.

Primary fish species residing in Lac Vieux Desert
Click images for fishing tips and details about each species.
Lac Vieux Desert Amenities
Marina: NO
Boat Rental: YES
Boat Launch Ramp: YES
Campgrounds: YES
RV Hookups: YES
Lodging: YES
Convenience Store: NEARBY
Bait & Tackle: NEARBY
Restaurant: YES
Today's Weather & Forecast
Public Boat Launch Ramps & Landings
Lac Vieux Landing Boat Launch Ramp
Located in the southeast section of the lake, off Lac Vieux Landing, this is a two-lane, concrete ramp with docks and paved parking.
Mann Avenue Boat Launch Ramp
Located mid lake, west side, off Mann Avenue, this is a two-lane, concrete ramp with docks and gravel parking.
Click here for a Wisconsin Fishing License.
Campgrounds & RV Parks Nearby
Lac Vieux Desert Reservoir Park Campground - 888 936-7463
Lac Vieux Desert WI Map - Fishing & Camping Areas
Lake Video
Contact Information
Lac Vieux Desert
Lac Vieux Desert Reservoir Park
Phelps, WI 54554
888 936-7463
Fishing lakes in each state.
Lac Vieux Desert in WI
WISCONSIN


Fishing for walleye, bass, trophy musky and perch in northeast WI.
Lac Vieux Desert, in Wisconsin.