The Wonder of Fishing
Since the beginning of time, mankind has sought fish as a food source. To most, catching fish was simply a means to an end...food for the family. To some, the pursuit was the awakening of an instinct that drew them to the water in search of the thrill of the "tap, tap" - something only a true fisherman really understands.
This website is dedicated to those kindred spirits who have an in-born desire to fish, and seek knowledge about the science and sport.
Fish for bass, catfish, crappie, walleye, trout, musky, pike and other species - with a special focus on lakes.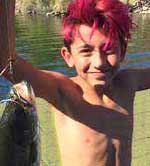 Learn the latest techniques and secrets for approaching a new lake. If you belong to a club or organization we would like to list it for the benefit of our visitors. We also list guide services and related organizations.
Enjoy the fishing, share the knowledge and protect our fisheries.
Fishing Information